I have recently become obsessed with gray and mustard. Many people think it is due to the wave of gray and yellow on Pinterest. Honestly, I fell in love WEEKS before I even heard of Pinterest, but kudos to Pinterest for sharing my love of all things mustard and gray and making it easily accessible to love it all the more.

Maybe my love came from Target where I found these amazingly beautiful tablecloths and matching kitchen towels, hot pads, etc.

I bought four of them. Three to make roman shades (that I thank Pinterest for) and one to jazz up to put on my table.

"How did she jazz up a tablecloth?" you ask? Well, I shall show you. You will need the following:

One tablecloth, wide ribbon (can be satin or grosgrain, whatever you feel), and of course, pom poms (purchased from 4 different JoAnn stores.) I. AM. OBSESSED. However, that is more than likely an understatement. If I could wear an entire outfit of only pom poms I would.

Finding gray pom poms? Nearly impossible. Finding enough yellow? Almost as impossible...and even though they claimed to have the same dye lot number, they didn't and my yellow is interspersed with pom poms that look more like 'goldenrod'. What is goldenrod anyway? I can only think of the crayon. Blergh. Anyway, although it ruined my final product because the colors were quite off and different, I didn't let it get me down. The tablecloth is still cute and I still get lots of compliments on it, so I win.

To begin, pin the thick ribbon around the edge of the tablecloth, then sew, sew (remember I don't pin!). I used gray thread to match the ribbon. Sew along the edge near the edge of the tablecloth, then sew right along the top edge of the ribbon.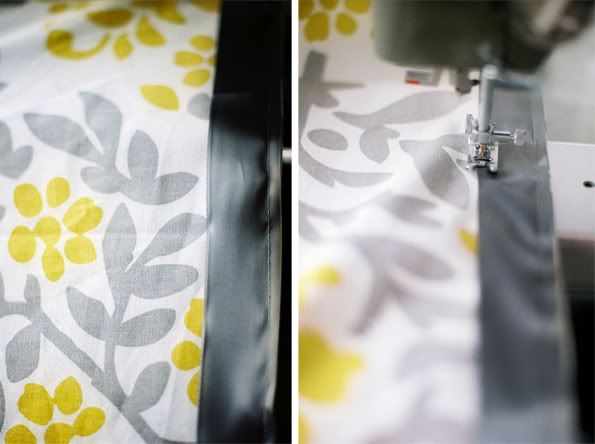 Next, change thread colors and sew the yellow pom pom fringe along the bottom edge of the ribbon and tablecloth:

It is as simple as that. Less than an hour of your time and you have this super duper fancy schmancy looking table cloth.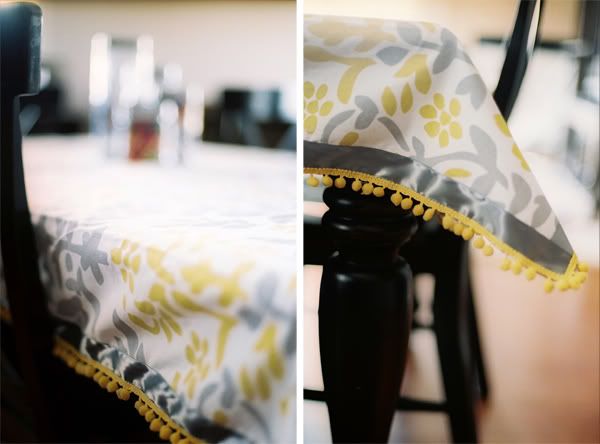 That is, until you wash it because, in reality you have children, and it shrinks and no longer fits your table.

Le sigh.

**
Shot on a Nikon F100, 50mm 1.4 lens at f/1.4 on Fuji Superia 800 Consumer film and processed at Walgreen's one hour photo .
**