These photos from last year are proof of how much I did not feel up to doing anything, like blogging. It is almost painful to look back at 2011, especially early 2011. There are things hidden behind eyes. Even looking at the photos causes my breath to catch in my throat. However, I am determined to get them all up and make for lost time, I should have done it anyway, feelings aside.
That, however is not what this post is about. This post is about last year on this same day when Flavio turned 33 and Miss Emm turned the big 5. Today, they turn 34, and 6 respectively. I can't believe it.
I love to see how excited she was about her present. Exactly what she wanted. This year I am so afraid that she might be a little bit sad that I got her Legos (which she wanted a month ago) instead of her newest want, an American Girl Doll. I just couldn't afford the American Girl Doll with all of her accessories that Emm wanted. Maybe we can save up to get her for Christmas this year. Knowing her, she may change her mind before then.
She is so sweet though. I wrapped her presents with the help of Milla, we colored on brown paper with markers and set them out for her to open up this morning. Emm refused to open them though. She wants Jothan to be home to see her open them. This is proof of what a wonderful girl she is and what a lovely young lady she is becoming. I am so thankful for her and for her love and consideration of others.
She woke her dad up this morning with a huge grin, and wished him a very happy birthday. She then came in to wake me up with the same beautiful smile so I could wish her a happy birthday. Who does that? She does. I love her for it. So does her dad.
Last year's festivities: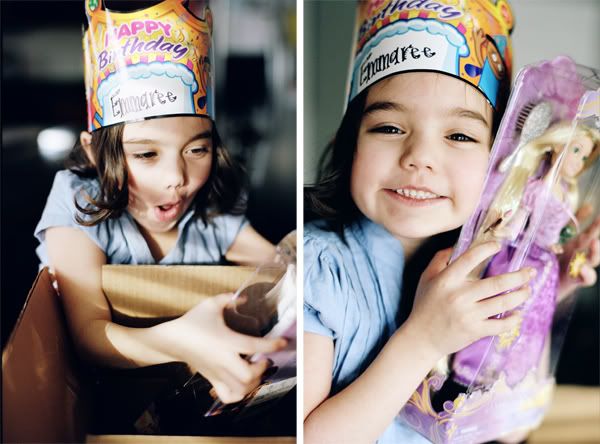 Last year all she wanted was a Tangled Doll. I wish I remembered what we did that day. Perhaps we went to see the movie? This is why you don't stop recording your life. You forget!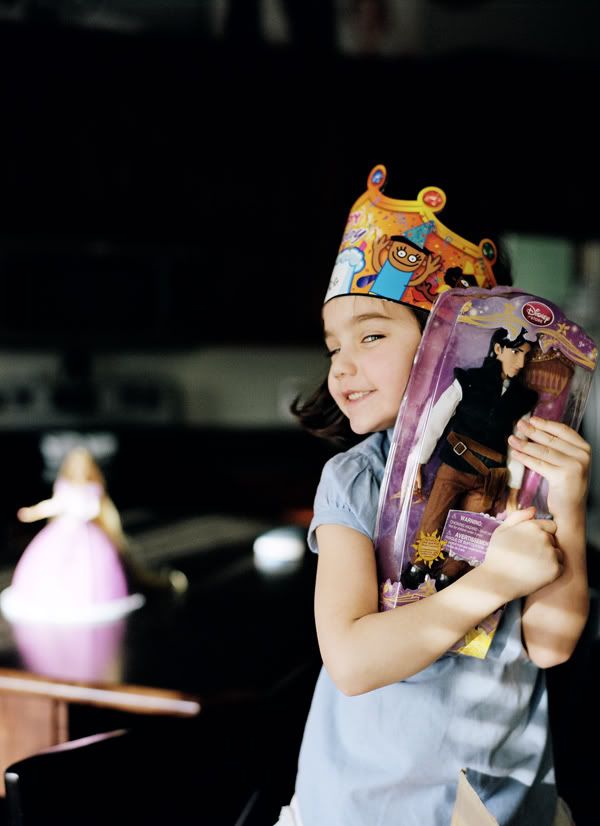 Don't forget the gorgeous Flynn Rider. Is it possible to crush on a cartoon character? Because I do.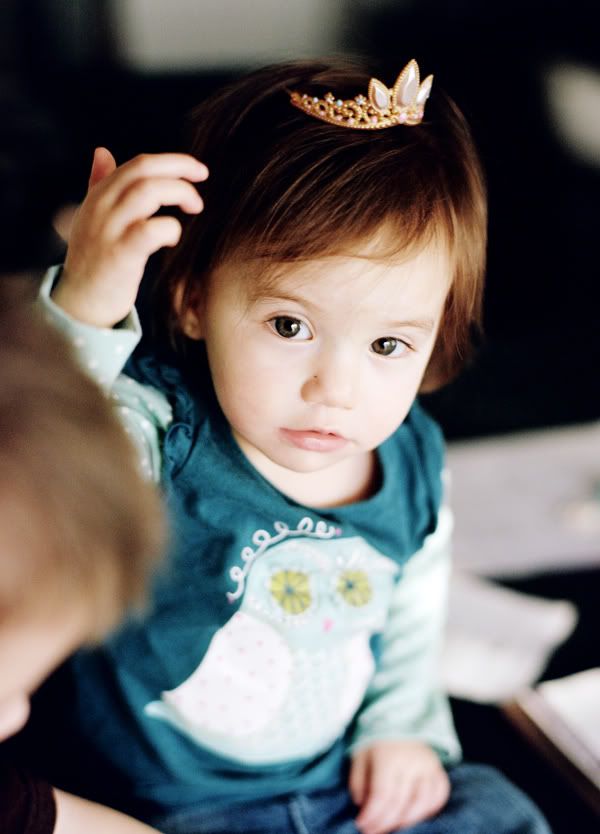 She is so tiny. Love her trying on this baby crown.

My beautiful mom and my beautiful girl.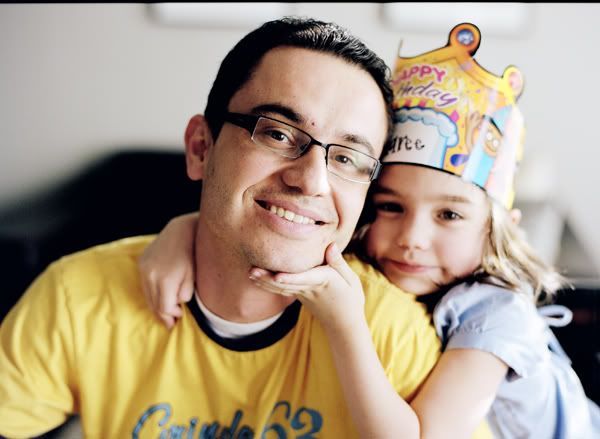 The birthday boy with the birthday girl. She adores him.

The most amazing cake ever, made by the amazingly talented Ashlee from
I'm Topsy Turvy
. She and I did a trade last year, photography for cakes. I will be posting her birth story later this week. Come back and see the awesomeness. It was so fun getting to know Ashlee throughout the year. This year everyone will be sad because they get boxed cake. (Thanks to
Holly
for letting me borrow her Bundt pan so that it looks a little fancier.) It was fun while it lasted.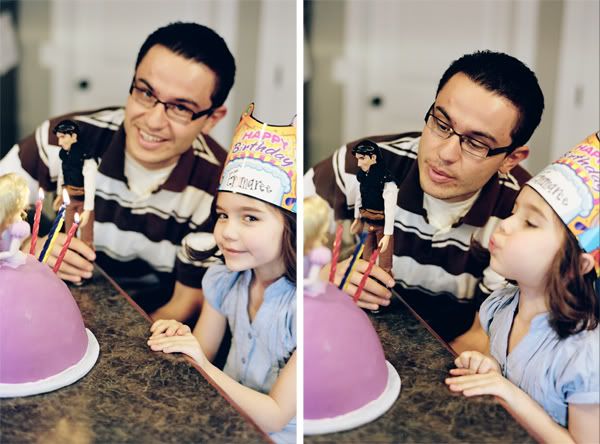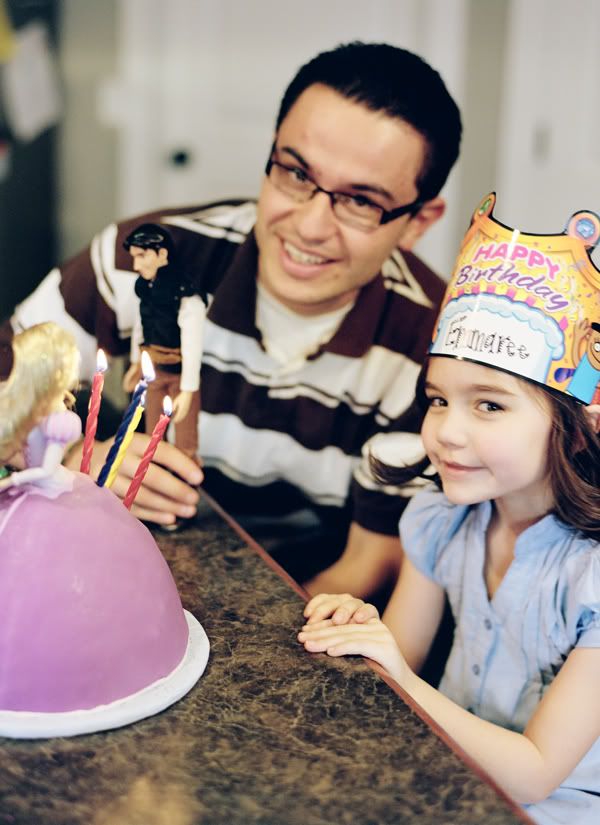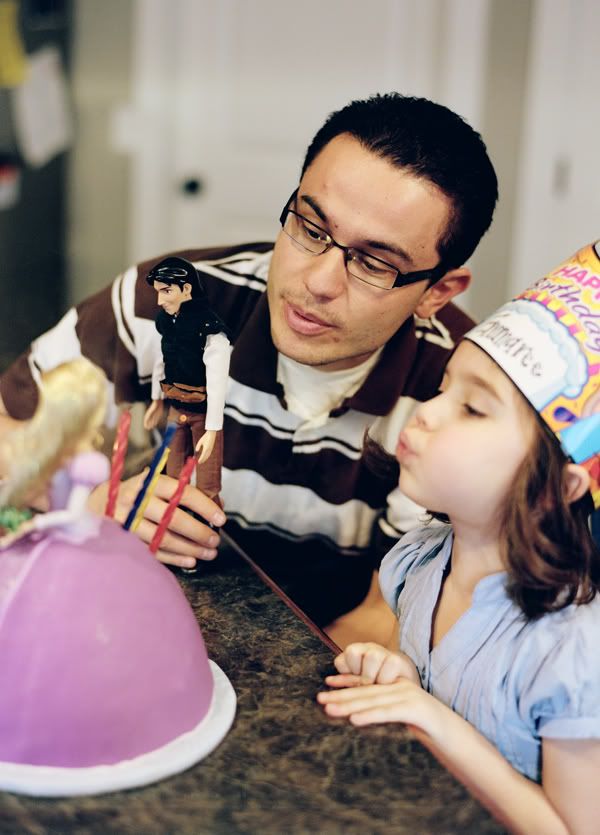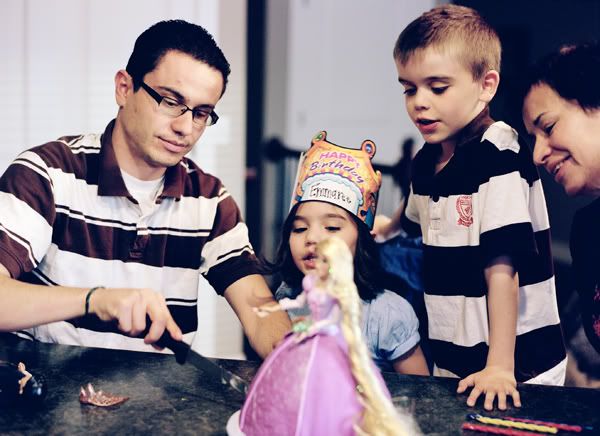 Here is hoping this year is just as magical for both of them. I love them both so very much and I am so thankful for both Flavio and Emm. They make me smile, they make me laugh, they make me feel loved.
**Get geeky: Shot on a Contax 645, 80mm 2.0 lens at 2.0 with Kodak Portra 400 Film pushed to 800**