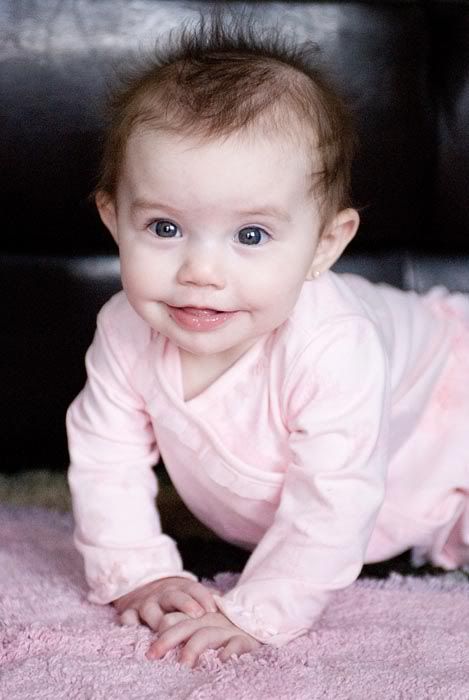 6 months.
Crawling.
Yes, crawling.
It has been hard to really get myself to believe that she is our last baby.
It is funny how you come to a decision, it feels so right, and then your heart sometimes doesn't want to let you believe it. Sometimes it is easier to second guess your decisions and choices.
Especially in this case.
Because this one has been so gosh darn sweet, and such a joy to us.
I think she knew how much I needed her to stay small.
She is our most petite baby.
I love every inch of her.

I have her memorized.
Today, I took down the cradle in my bedroom.
She officially shares a room with her big sister.
The first of many long nights chattering with her and telling secrets and talking about boyfriends and school
I am sure.
I took the baby swing down, it is in the car waiting to be returned to those from whence the borrowing of it came.
All of the four ounce bottles are packed away in the garage, awaiting the yearly yard sale.
The tiny little clothes except for a few put away for her and sissy are officially given away,
with another batch to go out tomorrow.
Oh how I love this tiny girl. She has brought us

so

much joy.
Kisses Millz. So thankful for you.
You were worth every second of the wait, every heartache.
I have said it before, and I will say it again, I would do it all over in a heartbeat.
Just stop growing so fast

okay

?