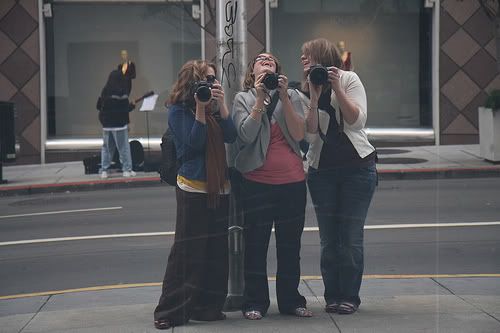 Moosh in Indy, Hedder, Simply Me. A store window in San Francisco. July 2008

Just finished reading this post at Moosh in Indy.

And now I am bawling.

Been doing that a lot the past two days.

Firstly, thank you to Casey for posting these beautiful words about Heather.

Thank you for actually editing your photos from one of the funnest weekends of my life...photos I have yet to even edit from my own eye.

Thank you for the opportunity to go to BlogHer last year, which allowed me to meet "Hedder" (although I still don't understand a thing you ladies say when speaking lol.) in real life.

I remember when I first started following Heather's blog.
It was when Maddie was about four months old. Back when Heather was still posting at her blogspot. I laugh, I STILL have a blogspot. Go Heather for upgrading!

I remember being so impressed by her wit, her charm, her love, her stamina to face such difficult things and hard trials like that of having a sick bebe.

She did it and she did it with laughter and a smile on her face.
To actually get to meet her in real life was a blessing to me.
Her husband is one of the funniest people I have ever met. They went with Casey and I while we tried on coats, and he had a way of making me feel smokin'. Thanks Mike!
It came at a very dark time in my own life, which is my reasoning for this post.

I am amazed by the outpouring of LOVE that this wonderous blogging community provides. From dealing with my own heartache and trial this past year, to watching the story of Nie Nie unfold, to Tuesday evening when bloggers all over the world united in love to Heather, Mike and Maddie.

Tears overflow. As they should.
This is a Sisterhood of gigantic proportions.
(Okay, brotherhood too.)
What did we do before we had such a strong tie to one another? To people many of us haven't ever met, and probably will never in this life?

I am amazed. See over there <----- just since TUESDAY night, people have given so selflessly in honor of sweet Maddie. Over $20,000. Tears.

I wish with all of my heart that I could have worked life out so that I could be there to support Mike and Heather on Tuesday. To happily wear my purple and show my love to them. I can't. Many, many people cannot. But let's show our love to them in any way that we can blogging friends. Send them a card, a thought, a kind word, anything...show them how much we love them!

Heather & Mike Spohr
11870 Santa Monica Blvd #106-514
Los Angeles, CA 90025


Oh how we need eachother in this realm more than we realize. What a comfort to know that in times such as these that we are no longer alone.