Lots of people compare Memms and Millz. It is only natural, considering they are sisters.
It wasn't until recently, as I began pulling out clothes that Memms used to wear, and putting them on Millz when I decided to start taking a few photos if I got the chance to compare them side by side.
Memms is on the left of each of these, and Millz is on the right.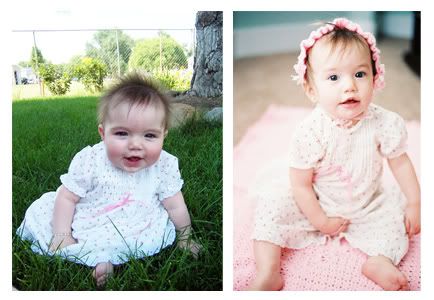 There are definitely some sisterly traits. That is for sure.
Memms, however, was much chubbier in the cheek area.
(She still is and is much kissable for it.)
Memms also had fuller lips than Millz.
Millz, I have decided is a perfect mix between her brother and her sister, but again,
a much thinner version of both of them when they were babies.
This got me thinking about my own sisters.
There is almost 12 years between me and my next closest sister.
They have a different biological father, so I never really compared myself physically with them.
Until I took their portraits at the end of last school year, and holy hannah.
Well, see for yourself.
Sisters are rad.
I wish mine were closer in age to me, and I wasn't more like a mom to them than a sister.
Glad that Memms and Millz will have a good opportunity to be friends.
To grow together.
I can't wait!