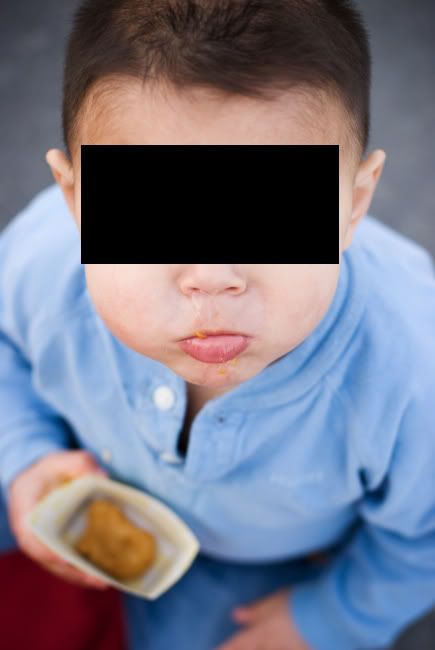 LJ enjoying a little nugget lurve.
I often wonder about what people who live out in the boonies...or basically where there is NO Wendy's feed their children on nights like we have all too often? Usually it is Tuesday nights, when LJ has a visit and we find ourselves running around like dead cockroaches. Ahh, Wendy's we love you.
Today has been a really long and exhausting day for me. I just feel icky, icky. I am teary and my heart aches. I am feeling so many emotions that I am not sure what to do or how to act, or where to go from here. I just keep thinking about how much comfort and peace I have felt over the past two months, and even with all of the trials that have been thrown at us over the last few weeks, how much we have been blessed, and how much I need to remember that our Father in Heaven is mindful of each and every one of us.
I guess, I just need all of my friends to know how much I love them, and care about them. I want my kids to know the same. My hubbs too. I would do anything in the world for them...to see them happy and smiling, to put my arms around them each day so that they knew how much!
We all went out to Baskin Robbins again tonight. ( I am using food as a stress reliever right now. Not the best thing to do I would say! ) It was SO much fun to watch the littles devour their little scoops and "hats" ( cone turned upside down on the top of the cupped scoop. ) It brought me back down to what is important, my family...how important it is that they know that I love them. I remember going to the same ice cream place when I was a little girl. Oooo how I loved to pick out Pink Bubblegum...and save all the gum for the very end. I love watching Jothy take the time to think about which kind he is going to get. He told me tonight he was going to get "the green kind" ( Pistachio ). I am not sure if he would like it or not...so I was happy when I saw he opted for Oreo Cookies and Cream. I wish I could be more like him. Everytime I go somewhere, I always get the same kind...the same dish. I rarely venture out. I love that he isn't afraid to truly experience each thing in life, each flavor and not be afraid to be hurt in the process. I was thankful today to learn so much from the Cookies and Cream choice. Thanks buddy.