...and the winner is: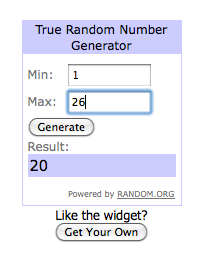 Commenter number 26:

Super congratulations to Cecily!
A few reminders:
Story@Home is offering a

Sweetheart Special. Everyone who registers by February 14th will be entered into a drawing. The winner will receive 2 tickets (one refund for her and a ticket for someone she loves).
Anyone who registers for the conference by February 25 will receive a swag bag full of AMAZING goodies.
For more information and to sign up to attend the conference and hear me speak (yippee!) click the image below. Hope to see you all there.