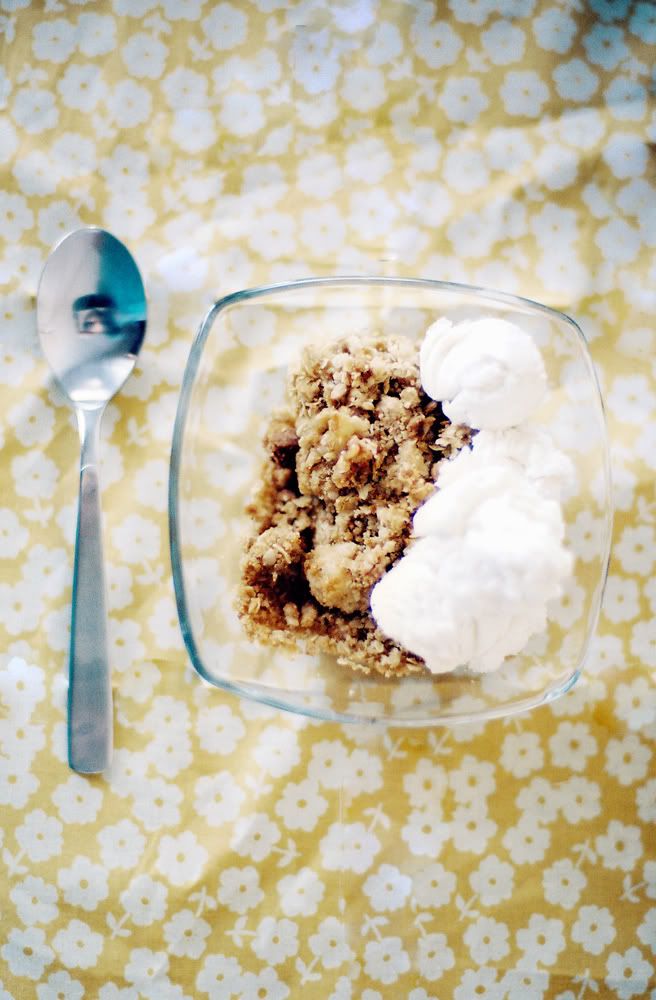 Forgive my photos. (Walgreen's One Hour Photo...equals, poo looking photos. What can I say? Also, I should iron my table cloths, you know, in my spare time. While we are at it I will let you know these were taken on my Nikon N80 with my 50mm 1.4 lens at f1.4. My shutter speed was LOW...maybe 1/20.)

However, don't forgive this recipe, it is delicious and to die for, and everything that screams, "Winter! Stay at home in front of the fire! Delicious! I shouldn't be eating this on my diet! Who cares?"
Needless to say I have made this quite a bit in the last few weeks. I can't get enough of the caramely (not a word), crunchy, cinnamony (also not a word) goodness of this dessert. I also consider it a great breakfast, lunch and dinner if you feel so inclined.
I claim this recipe as my own (my first ever?), because I concocted it after looking through a number of recipes, and not liking any of them, or feeling like there wasn't quite enough 'crisp' this is what I came up with. Try it and let me know what you think.
Kimmie's Apple Crisp
Topping:
1 cup wheat flour (it makes it
feel
healthy)
1 cup quick oatmeal
1/2 cup melted butter (the real thing)
1 cup brown sugar
1/4 tsp baking soda
1/4 tsp baking powder
1/4 tsp salt
Mix the above ingredients with a fork until well blended and crumbly...the bigger crumbles the better.
Apples:
4 small sliced Granny Smith Apples (we use a peeler, corer, slicer dealio, the kids love to help)
1 Tbsp lemon juice
1/3 cup sugar mixed with 1/4 teaspoon cinnamon
Mix the apples and lemon juice. Lay apples on the bottom of a 9x9 inch baking pan. Sprinkle apples with the sugar/cinnamon mixture.
Sprinkle topping mixture over the top of the apples.
Bake at 350 degrees for 45 minutes. The crisp should be bubbling when you take it out.
Let cool slightly then serve warm with vanilla bean ice cream. (We get something with 1/2 the fat, doesn't taste as good but then I don't feel quite as guilty for eating the entire pan by myself.)
Have a happy weekend.
xoxo
Kim