This has got to be the most lazy version of Gingerbread House ever. Remember how I told you we were all sick with some sort of fever, cough, snotty nose and or puke the week of Christmas? We did this house three days after Christmas and I still wasn't feeling tops. So, instead of going to church the kids and I decided not to infect all of their friends and we made a Gingerbread house. Half aced but still tasted yummy.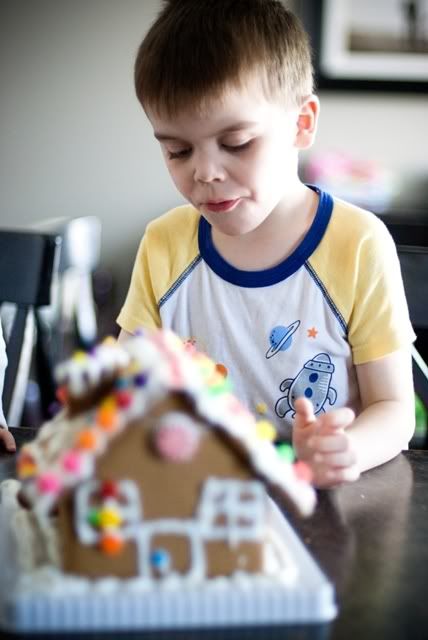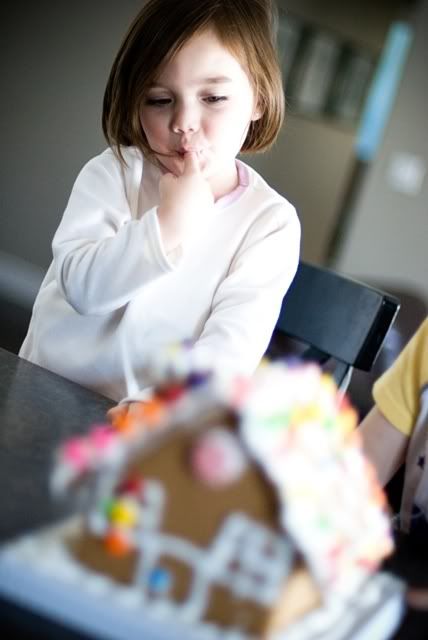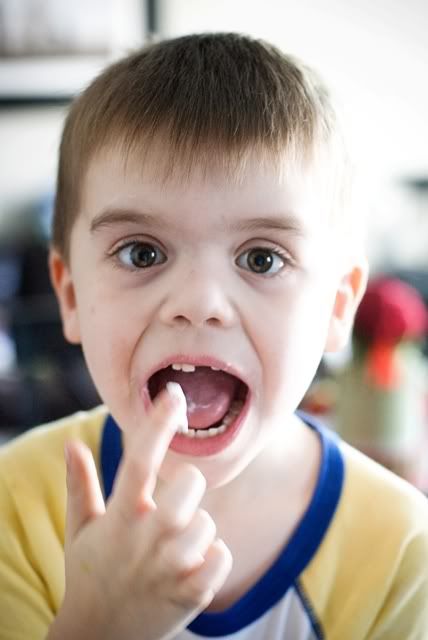 What is the point of a house if you can't eat it?
Christmas was so wonderful. We kept it small and simple, and yet by the end of the night the kids ended up with some major swag.
We spend Christmas Eve with Hubby's parents. They (along with what we had prepared) brought enough food to literally feed thirty people. There were four adults and two kids. Needless to say we had some major leftovers. I think they are finally gone. Praises. It was super fun to see the kids play with them. We got them a really cool digital frame and loaded it with pics. It was a hit.
The morning started off with a visit to my mom Lorraine's house. She is a dawl and it is always so much fun to visit with all of my brothers. We had a divine breakfast casserole and some yummy cinnamon rolls. Holla.
Then somehow
Anna
and I got roped into giving Christmas backrubs , scratches, and scalp massages to all of the boys. (Best Christmas present EVER for them anyway.) We, of course got nothing in return. (Next time Anna, you and I are trading scalp massages!)
After visiting them we stopped by to visit my Dad. Love this man. I never talk about him. I really should. The stories I could tell. I will consider it. He and his girlfriend Tish were SUPER sweet to my little family on Christmas. I have tears in my eyes just thinking about what they have done for us. We were also able to see my Dad's mom...she and I are going to get together this Spring and take some photos. It has been almost 25 years since she had some beautiful work done of her. I can't wait to share. We all have a unique relationship with her...for lack of a better term, it is strained. She was very nice on Christmas and we can actually say it was good to see her. She did make some good cookies, didn't she Marc?
Then we were off to visit my Mom and her family...super fun. It was a quick visit since we had a lovely family party a few days later.
The evening was spent with my Mom's mom. She is such a wonderful lady and more tears were shed as my kids, her great grandchildren opened the sweet presents from her. They have enjoyed and played with these little gifts since Christmas and it makes me happy.
Hubbs had to work on Christmas. I know right? Stinker. It was a wonderful year. I loved the simplicity of it all. Looking forward to carrying that over into years to come.