Tonight.
Hubbs has a few days off this week. Because little man is turning 5. Whoop. whoop. Why is it that when your kid turns 5 you suddenly feel sort of...old? I dunno. That is for later this week.
Tonight.
Memms refused to go to bed. So Hubbs is working away in his office. I am working away in mine, and Memms is in my office jabbering away about life, how she needs a baby cradle, and how I "pwomised" her one. ;) So this goes on until about 11:45. She keeps talking to me, I keep talking to her. In walks Hubbs.
Hubbs: "Memm, you need to come lay over here on this blanket." (All in Portuguese mind you...I couldn't spell it to save my life.)
Memms: "But I have a blanket, I was talking to Momma!"
Hubbs: "You need to come lay over here because Momma can't stop talking to you."
Memms: "Humph."
Seriously, he moved her from right under my feet to about 10 feet away. She was laying in the hallway between us so I couldn't talk to her anymore.
She fell asleep in five minutes.
We were like giggly girls talking the entire night away. So funny right? Hubbs!
And then there was this, about four weeks ago: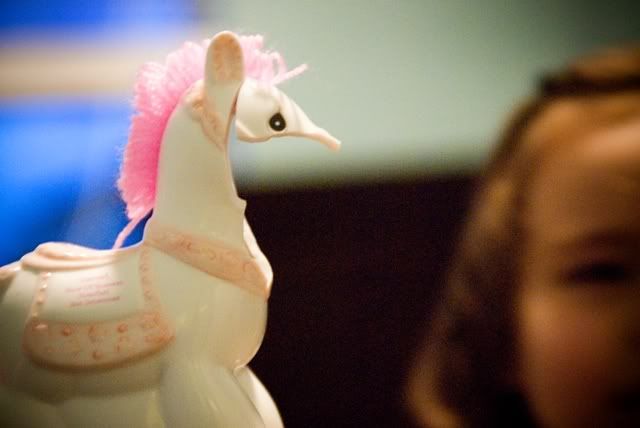 The death of the "
po'tock yeeeee'haw
"! Remember the obsession? Well, when she was born my mom and sisters gave her this little horsey bank. She has loved this thing and loved this thing. And it broke...on the carpet of all places. Man we are good at breaking things on the carpet. First Jothan's teeth, now the horse.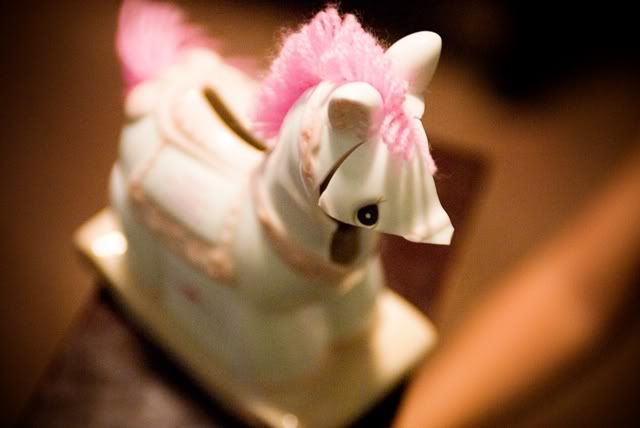 She cried and cried and cried. Complete with a phone call to gramma to tell her of the tragic news.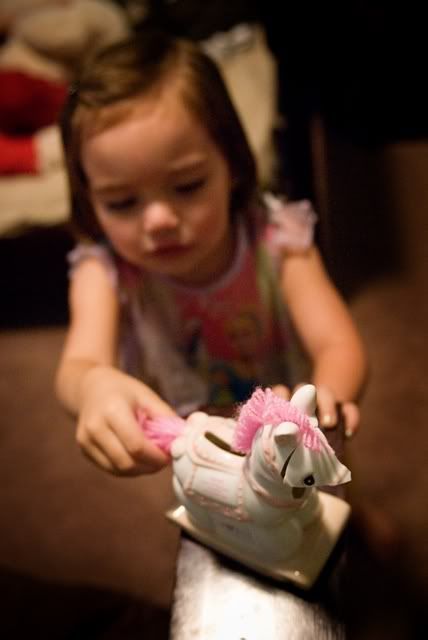 "But you will buy me a new one right?"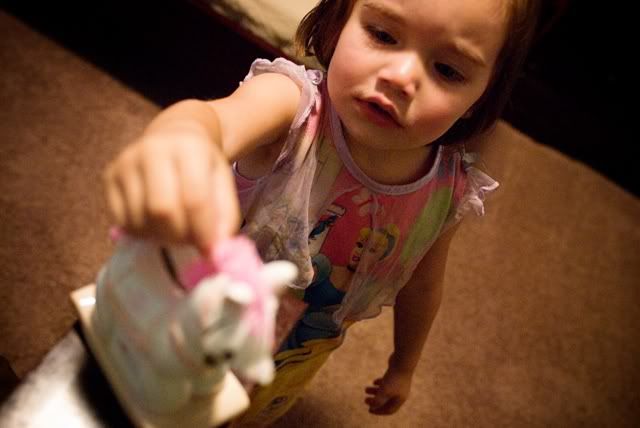 "My horwsey bank!"
Dood how I love.