He. Is. Five.
5
We had a wonderful day. We woke up singing the Happy Birthday song, and the kids played and played all morning.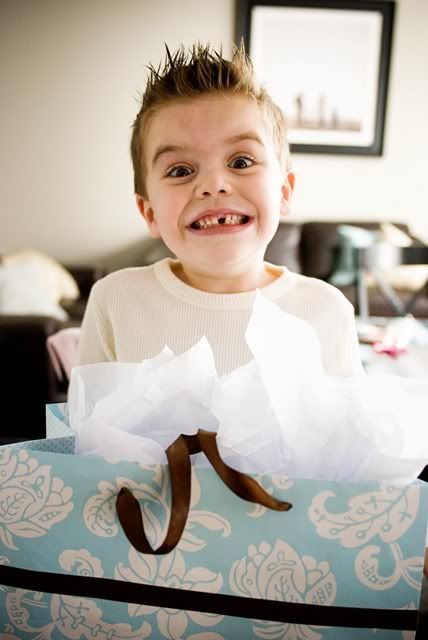 Around lunch time he opened his present: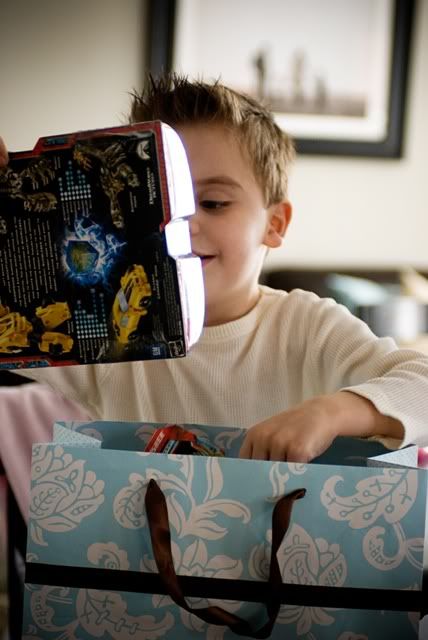 He was THRILLED!
Then he told me while we cuddled on the couch during Memm's naptime, "Mom, I really need a little brother. I promise to be nice to him. " He. Is. Darling.
Earlier this morning I asked Mr. where he wanted to go out to dinner. He could pick ANYWHERE he wanted. All his choice. He said to me, "Um, I think I might like to have Chinese food." I was floored and laughed so much. So, tonight, we went out for Chinese food: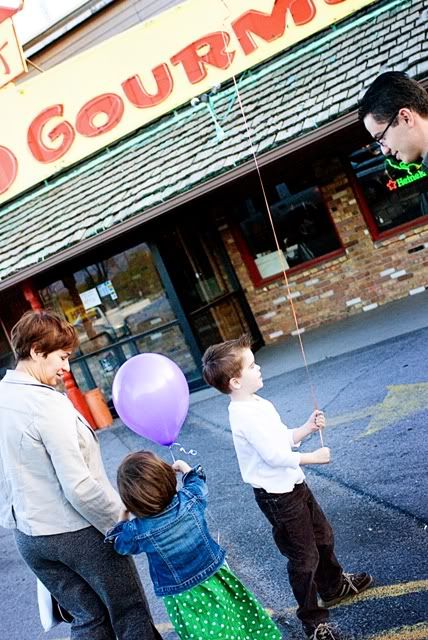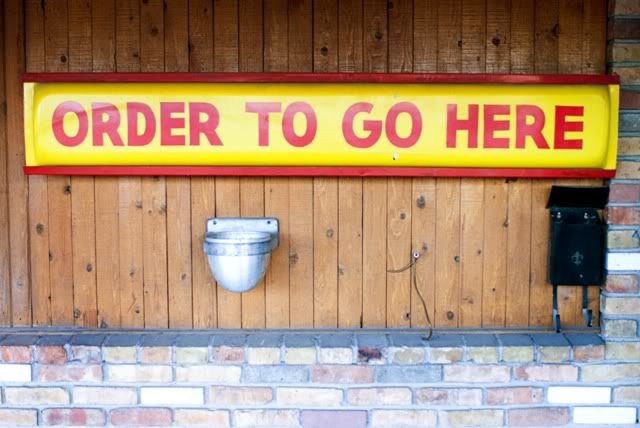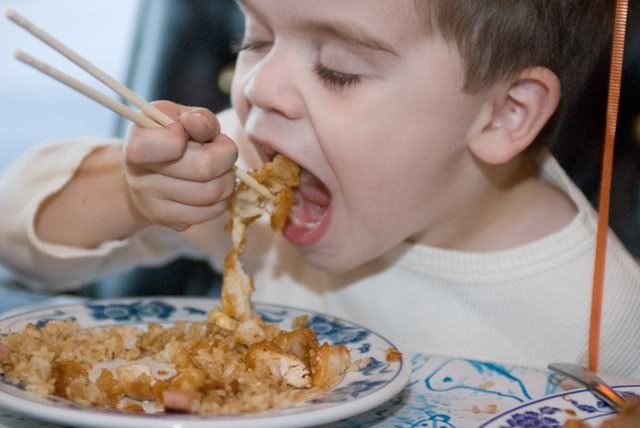 He loves the chopsticks, and surprisingly he is REALLY good with them.
Hubbs' mama gave the kids balloons for the special day. Our little family has this thing with balloons. It started when J-Man was a baby, we have always sent them up for "Papai do Ceu" or for Heavenly Father. I think it was a convenient way for us as parents to avoid the choking hazard and the tears and crying when the balloons finally lost their float. Either way, it has become a really fun tradition for us. When we lost
Peanut
, one balloon began going up for Peanut and one for Papai do Ceu. It brings tears to my eyes just thinking about it. After reading
Nie's
balloon flights, it means even a little bit more. We sent up a little prayer for her family tonight too...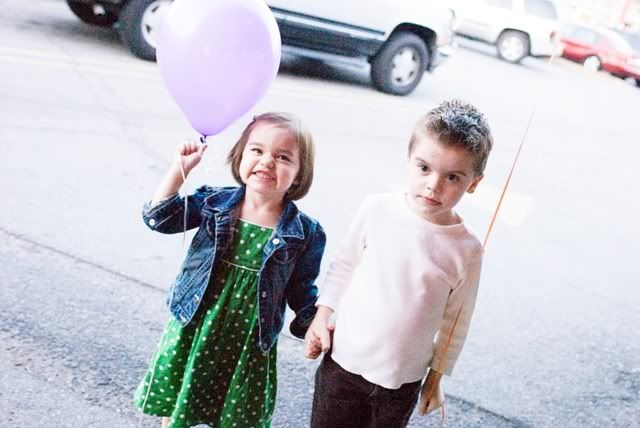 I love how excited they get when they watch them fly away.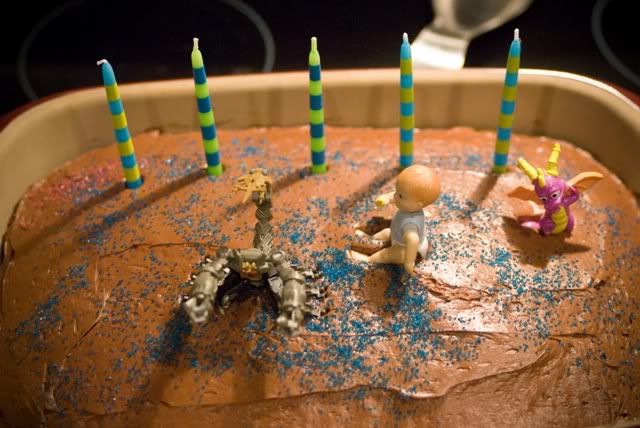 Mr. Cutie Pants decided that we NEEDED some toys on the cake. "Sometimes Mom, there are toys on cakes. You know?!" So he ran and grabbed some of his recent favorites. A Transformer, the baby from the FP Dollhouse, and "Dragony".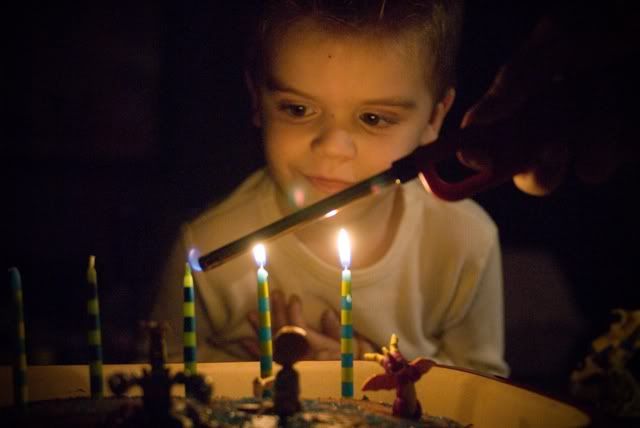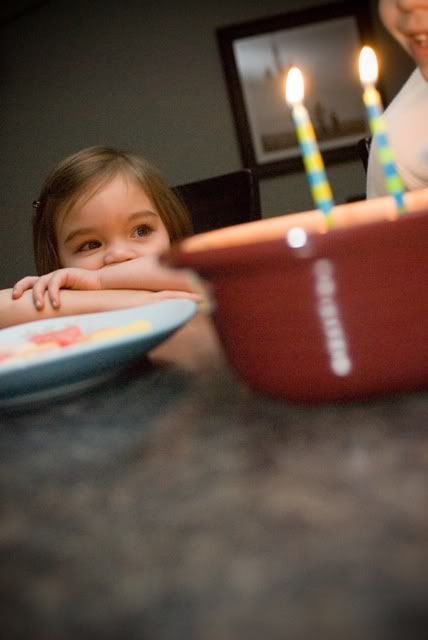 Little Sis is starting to realize that birthdays are special and not for EVERYONE on that day. She was pretty upset and a little jealous. Mr. J was such a sweetheart to her all day, making sure she knew she was loved and included.
Make a wish! ("I wished for that I had one of 'Megatron'...and now I have one! Thanks Mom!")
I dunno if other parents endure these feelings when their first born turns five. I don't feel like I have been a mother for five years. That just seems crazy. I know it seems overly said, but really it has been the most remarkable five years of my life. He has brought me SO much joy. The things he says, the things he does, the way he is learning and growing each day surpasses my amazement. J-Man, you are an incredible artist. You have such an eye for beauty and for seeing the world in a new and different way. I really hope that you never lose sight of that. I hope you can always hold onto these qualities, and that I, as your mother can always encourage your growth, your learning, and your understanding, and that I can encourage you to do the things YOU want and LOVE to do. Keep doing such good things sweet boy. You are my heart!