It is so nice to finally feel like I am back in the game of life. For the past two, almost three years I have been working from 1-6 hours from home each day. I made the decision in July to quit my very amazing job doing graphic design work. I came to the conclusion that I needed to focus more of my energy in a few places instead of feeling so spread out into every direction. While I am still catching up from so many months of being unorganized both in my physical life as well as my virtual one, I feel so much lighter and more excited to blog about my life...and the things I am currently focusing on that make me who I am! One of those things?
Spotted Owl Soap.
In February of this year The R House Couture purchased it's second sister company (More on its first another time.), Spotted Owl Soap. We purchased Spotted Owl from the founder
Holly Reed
, who after a trip to Europe, discovered that soap didn't have to smell and feel like, well, soap!
I met
Holly
in 2006 when we started working together doing photography and other graphic design work. We became fast friends and I was lucky enough to be her friend when she founded Spotted Owl Soap. I had never used handmade or
homemade body products
before. So, in 2008
I became hooked on handmade soap
, and to Spotted Owl. That fall I gave away soaps to all of my neighbors and friends. Delightful.
When the company went up for sale earlier this year, it was easy to talk my business partners,
Lindsey Redfern
and
Leisha Kelsey
into buying it, I had, after all, gotten them hooked on the yummy products as well.
So, the last nine months have consisted of hours in the workshop formulating our scents and nailing our branding down to bring
Spotted Owl
what it is today. So many hours have been spent in the studio creating fun photographs for our products. (I am so lucky that photography is one of the jobs I have the privilege of doing.
Here are just a handful of some of the products we offer, and some of my favorites as well:
Fresh Citrus Shea Butter
Shea butter has been an amazing addition to the lives of my eczema prone children. It is nice to have something all natural for their dry skin.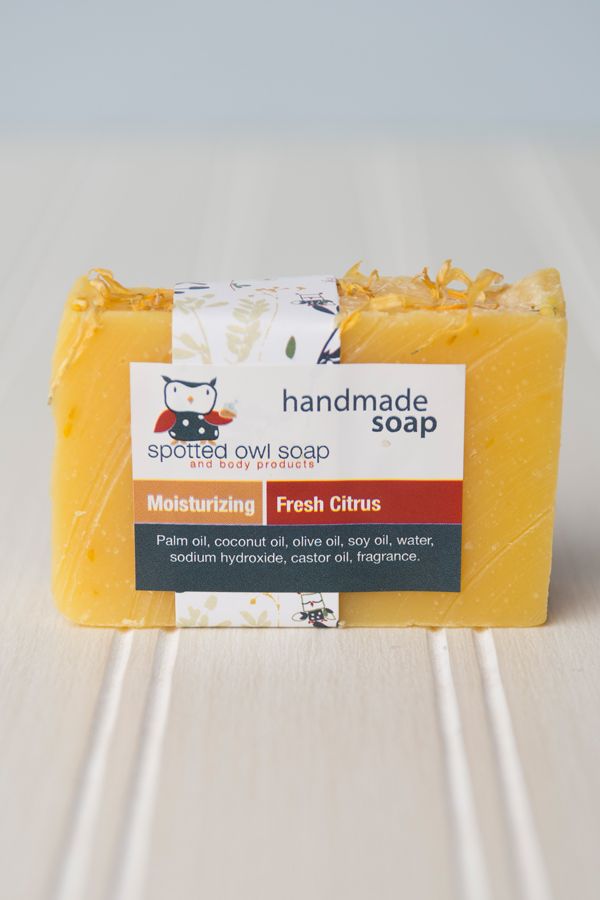 Fresh Citrus Soap
Our best selling soap is also my favorite. It's bright fresh scent and happy color make this a favorite in every shower.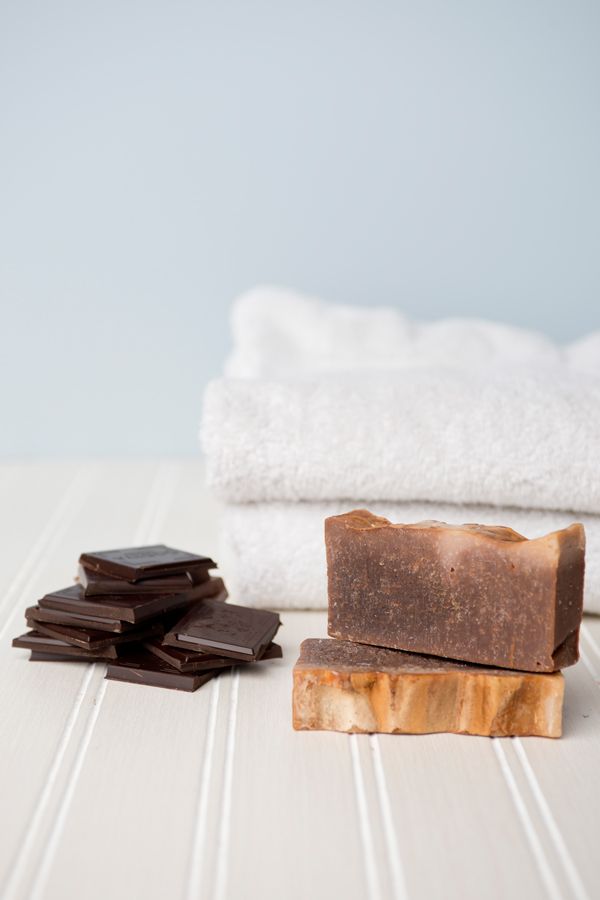 Deep Rich Chocolate Soap
Currently out of stock due to it's amazingness, Deep Rich Chocolate is definitely one of my favorites.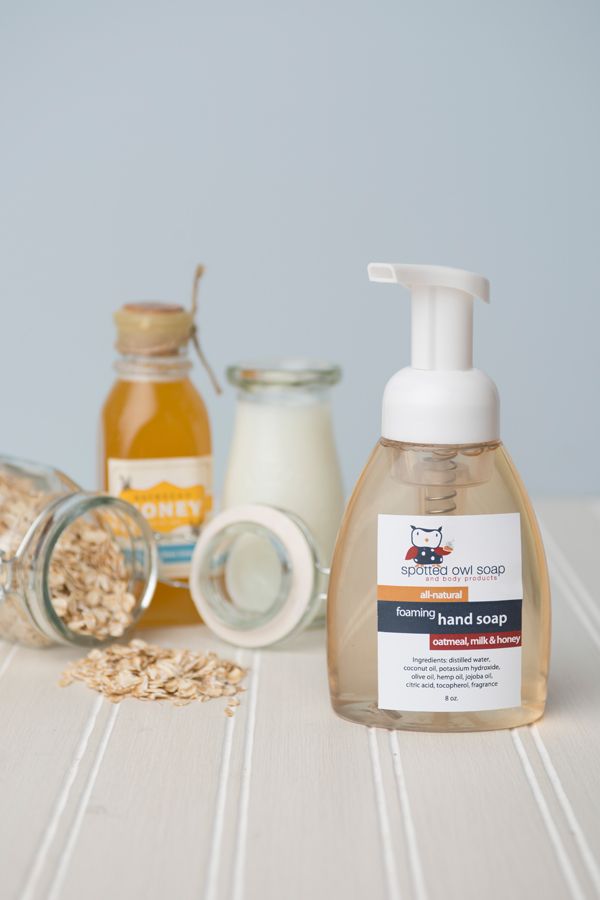 Foaming Hand Soap
Our clients asked and we delivered! I beautifully scented, natural foaming hand soap that won't get your bathroom counter yucky!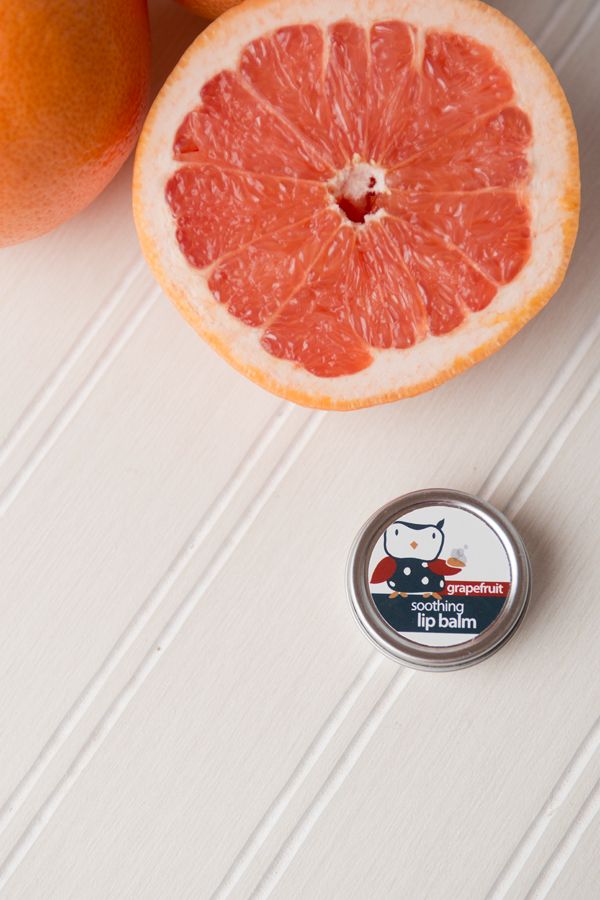 Grapefruit Lip Balm Tin
By far, our most popular lip balm. Who doesn't love the refreshing scent of grapefruit? (Even if you are like me and think they are gross!)
Bubblegum Lip Balm Tube

Something for the kids or kid at heart. This bubblegum smells just like the real thing!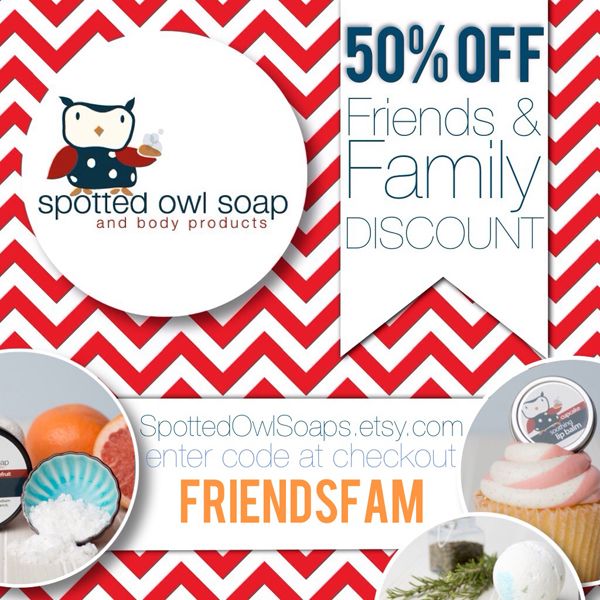 At Spotted Owl, we are currently offering a 50% discount to our friends, family, readers and followers. Simply visit
Spotted Owl Soaps
on Etsy and use the code "FRIENDSFAM" at checkout to receive this amazing deal.
I am SO excited to share it with you and hope that you give it a try for yourself. Let us know what you think!