The time has flown by.



NINE years.



It feels so strange to say that. It feels like just yesterday I met this amazing man.

So, in honor of our ninth year anniversary,
I will share with you the story of how we met.



Hubbs and I met shortly after his mission for
The Church of Jesus Christ of Latter-day Saints.
He had served his mission in Anaheim, California. He was 22 years old,


I was 18.




YES 18.





I was still in high school!



I would leave school at 2:10 p.m. and basically speed (yes...SPEED) to make it the ten miles to be to my full time job at 2:30 p.m.

How many high school kids do you know that go to school all day then go straight to work and don't get home until 10 at night? Not many.

I did it. I did it for 6 months during my senior year.

It was rough.

Anyway, to make a really long story even shorter, I didn't work most Thursday nights because I had a clinical class for nursing assisting that I had to attend on Thursdays. So the first day of training for a new area of this job happened to be on a Thursday. I came into work on Friday, and during our meeting everyone was jabbering on and on and on about the trainer. How he wore a pink polo shirt, and his name was "Fabio" and how gay he must be.

Hilarious, I laughed along, thinking how funny it was, and a wee bit sad I missed out on the pink shirt because I had been gone. I knew I wouldn't have the chance to meet this Fabio because I wasn't going to be doing phone work with the rest of the group.

As I walked to the computers that day after our group meeting, one of my good friends from training convinced me in about 30 seconds that the phone work was REALLY easy and SO much better than the computers. If any of you know me, you know that in high school I was HIGH ANXIETY.

The fact that I even went to sit down and learn the phones was an amazing feat.



Anyway, I sat down and shortly after met the famed Fabio.





No pink shirt (to my dismay).


I did, however notice that he was wearing a CTR ring.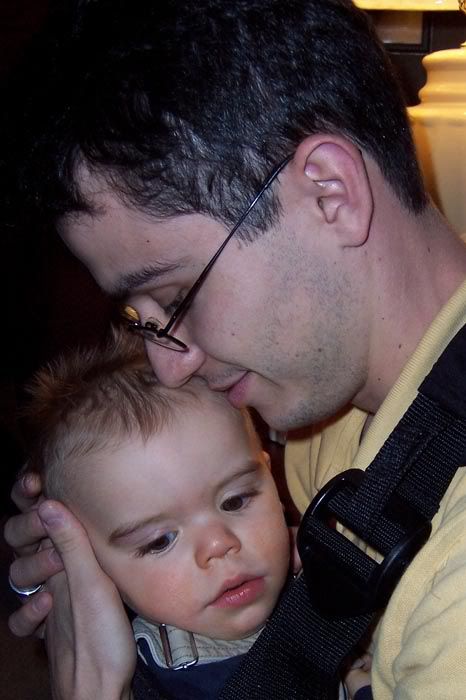 This convinced me that he probably wasn't gay,
and that perhaps there was some explanation for his pink shirt.

Over the course of the next few weeks, I noticed he would always talk to this old lady.
I thought it was super weird because he was so young and always spent his time
with this other woman.


(this woman turned out to be his MOM.)



Our seats were not assigned either so my friends and I would move around quite often. One day my friend said to me,



"Kim, don't you notice that Fabio always sits next to you?"



I hadn't really noticed up until that point, I just thought he was being nice and helpful. Tee hee. I did notice him on breaks and stuff that he would often be in close proximity to me. After that I started to notice that he took every opportunity to be by me.

A few weeks later I had some Pepperidge Farm cookies in my bag, and I asked Fabio if he wanted some...so I shared.

That began our deep conversations.

He asked me that night if I wanted to 'hang out' and go bowling with him and some of his friends.

I had to politely decline (it was a school night and my curfew was basically when I got off work).

He had no clue what a 'curfew' was.



Strike one for Fabio.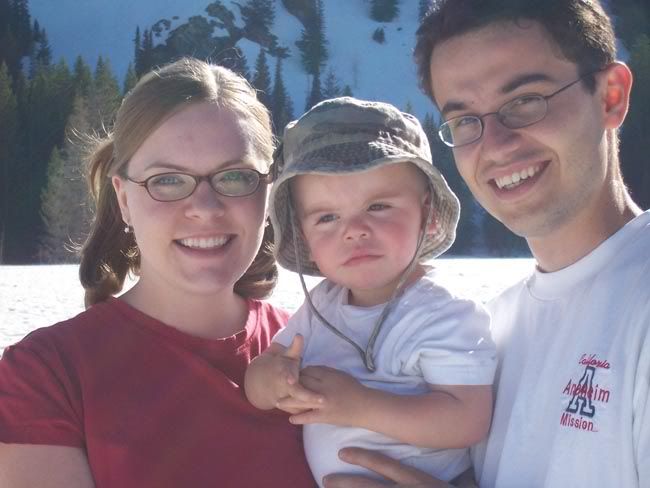 A couple days later, he asked me to 'hang out again'.

I finally got the idea that this guy had a THING FOR ME!

AHHHH. I wanted nothing to do with him. He was 22, and was only looking for a wife.

I was 18, and I had SO many plans. College, mission, backpack Europe. Etc...etc.

Marriage was THE furthest thing from my mind. My parent's marriage had ended in divorce and I was kind of anti-marriage at that point in my life.

Strike two for Fabio.




Again, he asked me out...



Strike three.



I have to tell you at this time in my life, I REALLY was busy an I had LEGITIMATE excuses to be turning this young man down.

I really didn't want to date him, he was from Brazil, and had a great accent, and he was kind of cute, but needed some serious wardrobe help...and really I didn't want to deal with it.

Strike four.

The poor guy asked me out FOUR times and I said NO each and every time.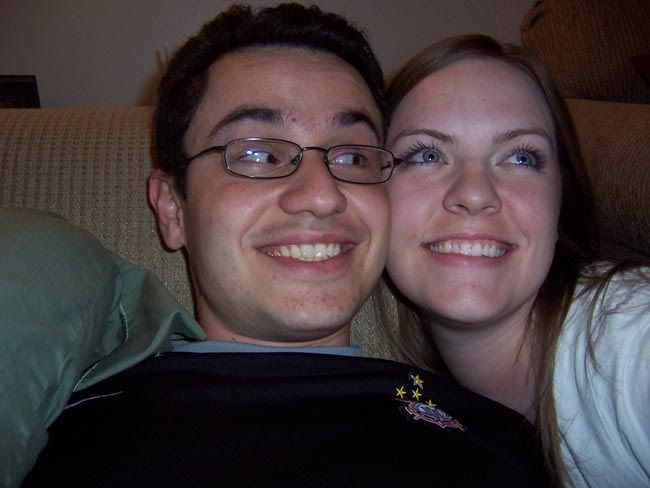 The time came for my little group of trainees to move to another building. There was this small part of me that felt bad for this guy who had tried so hard to ask me out.

On the last night we were in the same building, I wrote my number down on a piece of paper and slid it to him.

I apologized for always being too busy to 'hang out' with him and told him to call me sometime.

I was pretty sure he wouldn't call.

I think I was hoping he wouldn't.

He called two days later.





I picked up the phone and it was Flavio!

He called wanting to know if I could go out and I said YES.

He was SO stunned that he stammered and sputtered.
(he hadn't even planned a date...so sure I was going to say no.)

He asked me to go to a birthday party of one of HIS Brazilian friends, and said:

"Do you want to meet me there?"

I said, "Well, that would be great except I have no idea who your friend is, and you are asking me out so you probably should come and pick me up."

Poor Flav.




He came and picked me up later that evening. I kept looking out the window for some atrocious beater car. When a super sporty red car pulled in front of my house and Flavio got out, I was floored.

Say what?!



Home Run.






We went out.

Here is where I would like to tell you it was the most romantic date ever.

It wasn't.

It was horrible.

We spent the evening with 30 or so Brazilians who spoke only Portuguese.

Not the best first date for someone who only knows English.

He took me home that night and I vowed not to do that again.

He called me the next week.

I decided to give him ONE more chance.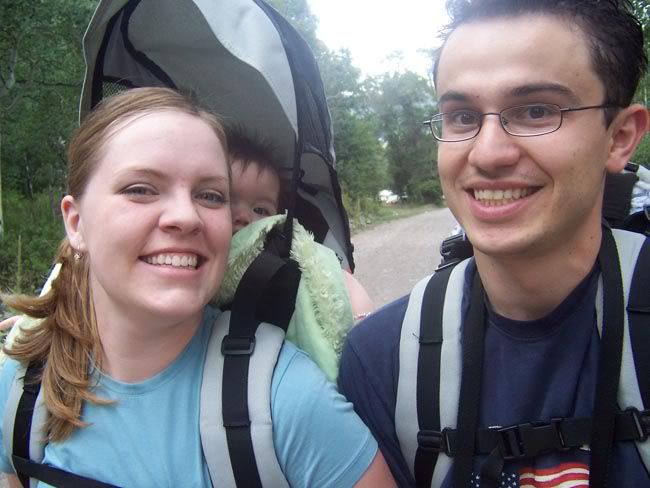 I am so glad that I did.

Our second date was the best I have ever been on.

I knew that night that this man was going to be my eternal companion.



Really. I. Did.





Strange but true.



Nine months later we were married.



I was still 18.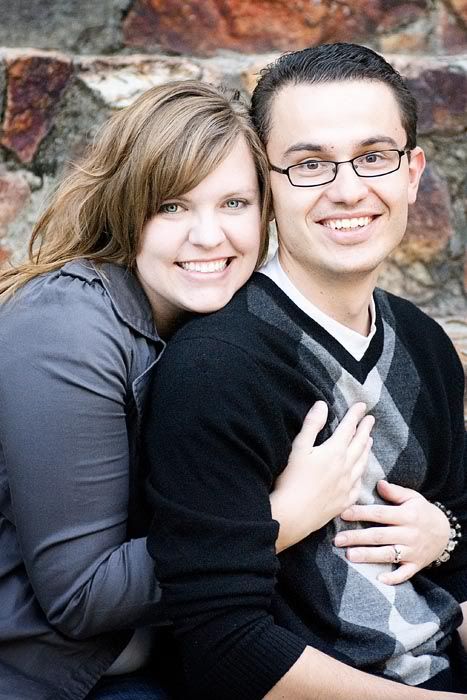 It was the best decision I ever made.



I love you sweet 'Fabio'.

So thankful for you.

Nine years.

3 Kids. 1 Angel.



and a hope for a million more years together.



Happy Anniversary Love.