-Selena Gomez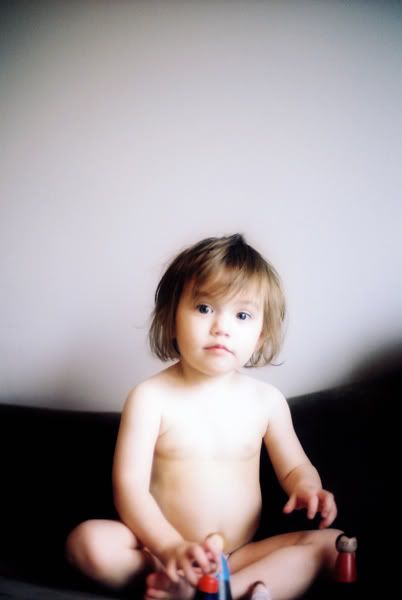 Nikon F100, 50mm 1.4 at 1.4, Kodak Portra 400 Film (Ditto to the photo below.)
I think I am ready. Even as I type this I am not so sure if I truly am ready, or just think I am.
Maybe baby steps are the best way to go. If I have learned anything in the last two months, it is that I do have the right to a beautiful life, and I can tell you this, I have never worked harder at having one than I have in the past few weeks.
A little over two months ago (two months that seem like a few millennia) I got the news that felt like a sucker punch to my gut. I have had a really hard time knowing how to share the portions of the story that are my own, because I feel it is SO important for me to A: share, because that is who I am, that is how I sort through my feelings and I have never hidden anything in my life from this blog that I could in all honesty and legality share (unless it wasn't mine to share, and in that case I haven't) and B: share because I feel that it is so important for women in my similar situation to know that they are not alone, and that no one has a seemingly 'perfect life' but everyone can and should have a beautiful one, despite the trials and punches thrown at them.
I am not certain where this will go, or how many more posts will come of it, maybe none, maybe a million, only time will tell.
So, I will do my best to share my part, and the rest all I can ask is that the other person involved can understand and love me regardless as I work through my feelings for myself and for him.
Two months ago I got some news from my husband. He had made some choices that advertently affected his wife and his children. That is all I will say on the matter as to not defame him. He is hurting dearly for his choices and mistakes, as am I. Luckily our children have come through mostly unscathed with the exception of two weeks where my little boy cried so much. He could feel the tension and stress even though he knew nothing of what was happening between his parents.
These choices made by my husband resulted in a two week separation, during which we both decided we needed to work through these trials that had come our way. I was surprised to discover that there had been a disconnect on his part for three years. I can tell you that for the past year almost, I too had the same disconnect because I was tired of 'trying'. Tired of pushing for communication, for love, for friendship. The sum of our trials compounded until we finally crumbled.
I struggle with this because three years almost to the day is when we lost our baby. I know parts of me died when that baby died. Parts of me died dealing with it, but I thought I did the best that I knew how, and apparently it wasn't enough, and it caused my husband to shut down in regards to me, and for that I am so devastated. However, I am so disappointed that he didn't have the strength or the ability to communicate with me until it turned into a nightmare. You may remember my post from February entitled
"Deep"
. This post was written at a very dark time in my life. A time when I felt from the depths of my soul that my marriage was in trouble. I can remember with exactness the heaping sobs as I lay in the hot shower trying to will the thoughts from my body, mind and spirit. "This can't be happening." I thought. "My marriage is in trouble, Heavenly Father please, please help me!" I had zero idea at this time that anything 'huge' had happened in my marriage...and yet it seems, my spirit felt it, and knew it. I am a very religious person and I can pinpoint, almost exactly to the day when the spirit left my home. There was a darkness and a complete lack of love in my home for a period of two months. It wasn't until early March I would discover why, and with that pain and anguish and sorrow, begin to try to rebuild what my husband and I had built up for ten years.
And we have.
It has been a long eight weeks. We are seeing a marriage counselor. So many people are praying for us, fasting for us, attending the temple for us, helping us, and they have zero idea why. All most people know is that I am hurting deeply, and I am.
I am on this constant roller coaster of emotions and honestly I pray for one day of reprieve. I want off, for at least a week. I want to feel normal, and loved completely, and adored and practically worshiped. None of which is happening at the moment...but it isn't for the lack of trying.
All I know is that this time in my life is demanding tremendous amounts of patience. Most of which I feel I lack on a daily basis.
My heart is with my family, with my children, with the person I knew beyond a shadow of a doubt was to be my friend, my companion, my love for eternity. I would like that to still be so. I hope he knows that, and can somehow feel the same way for me...that is my hope.
Still, I am on uncertain ground. It feels rocky, and unstable, and that frightens me. I feel very alone, and frightened. I cry a lot, sometimes I am not even sure why. I feel lots of anger. It is hard to have faith and hope when you feel angry and torn and bitter and when you are grieving. It is hard to feel positive when you lack trust...trust in your spouse and in yourself to forgive and move forward.
That is all I can do for now...learn to trust...to love deeper, hold tighter, try harder, push more, dig deeper.
I have every right to a beautiful life, and one way or another I am going to find that life.
This I promise.