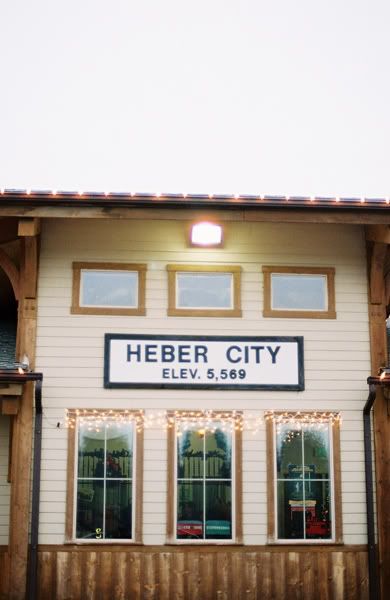 Last week my family and I had and amazing opportunity to drive to Heber to ride the
North Pole Express
.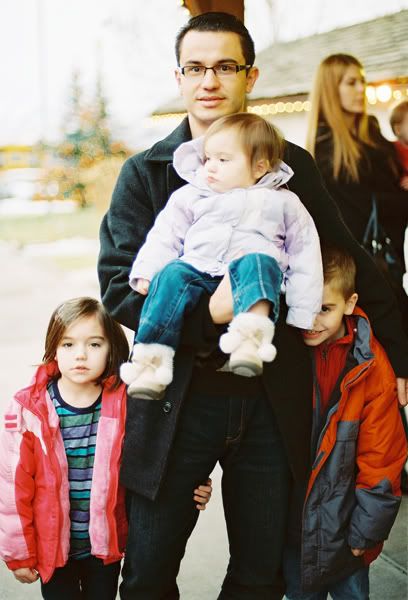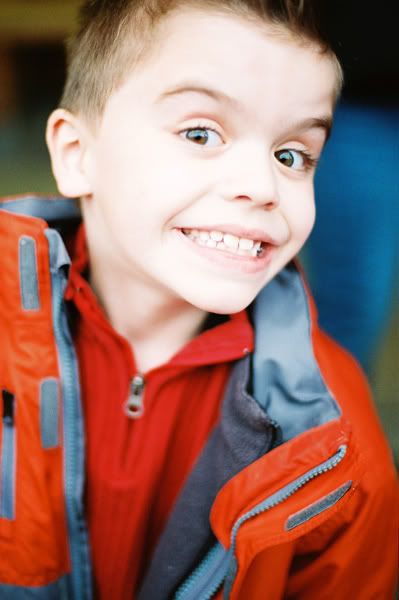 We eagerly arrived at 15 minutes to spare before the train boarded. I didn't tell the kids where we were going. I think childhood needs to be FULL of surprises. When we arrived the kids were ecstatic and over joyed to be in such a magical place.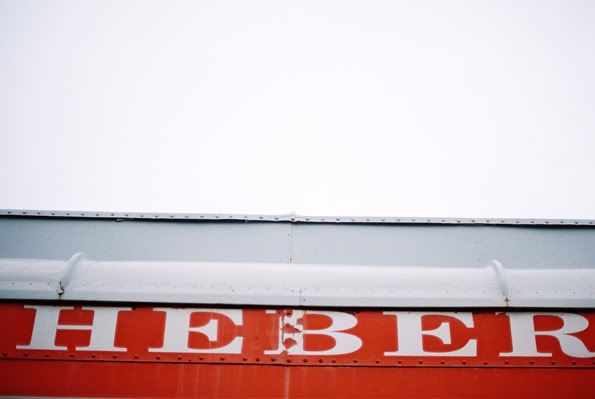 We sat in the very front of our car. I wished later that we had been more toward the middle, as I felt like that is where all of the action was.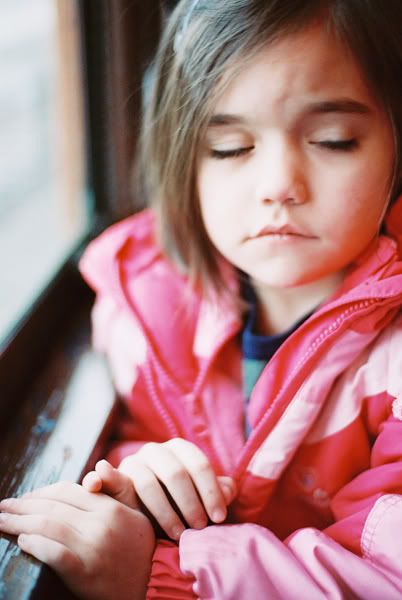 The train was decorated beautifully for the Christmas holiday. We were given cookies and hot cocoa (that was THE perfect temperature, even Millz was able to partake). Our hostess was such a delight. She led us in singing Christmas songs. The classics. Like, "Up on the Housetop" and "Rudolph the Red-nosed Reindeer". There were stories like T'was the Night Before Christmas and funny elf jokes. Even Hubbs got in on the action.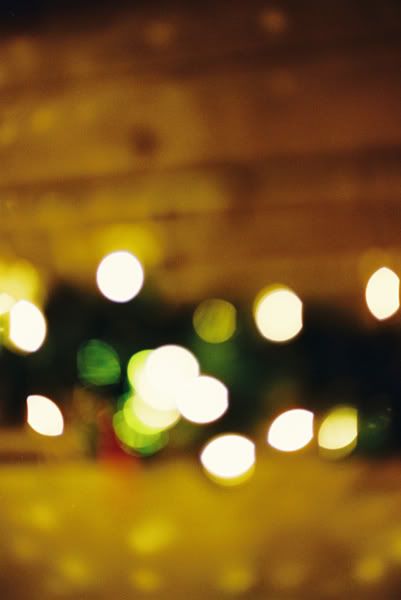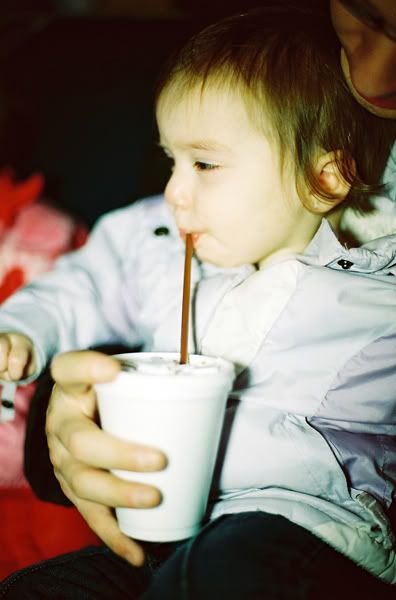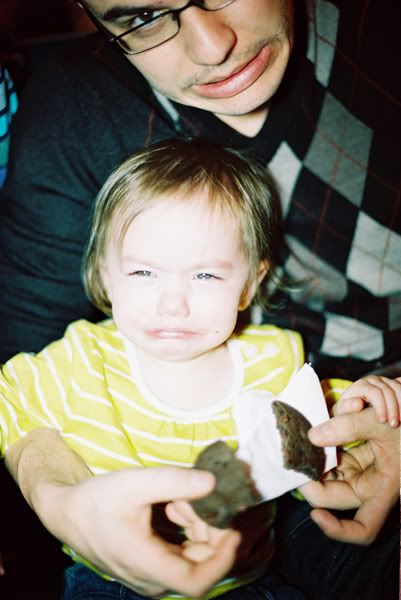 Mrs. Claus even made an appearance. She sat down with my kids and gave us her secret special recipe for Christmas cookies.
Then the big moment arrived. We stopped at the North Pole. My kids, along with about 7 other kids piled into one seat to catch a glimpse of Santa. During the huge pile I hear someone exclaim, "Ew! Someone farted!" After which the seat cleared out to about 3 kids. I'm guessing the farter stayed, because, my kids were still sitting near the window waving at Santa. Yes, it was my kid. My oldest kid if you must know. (On the way back he shared his goodness as he was sitting next to me.) Sigh.
Santa boarded the train and we were off. He sang some songs to the kids, ran up and down the isle (but didn't quite make it to us). Then he took time to talk to each girl and boy. He didn't ask my kids what they wanted, but we did get to take a photo with him, which was so so so fun for Joth and Memms. Millz was a little freaked out, which is completely normal at her age.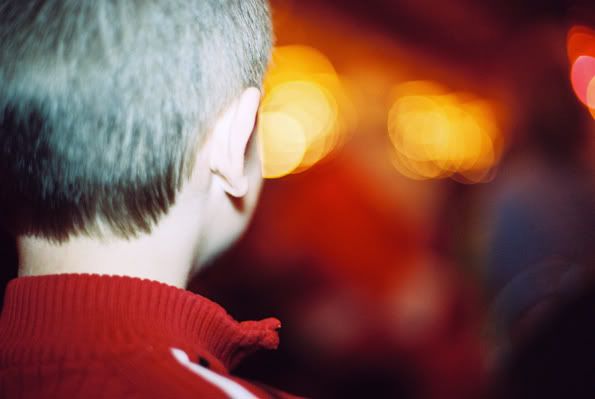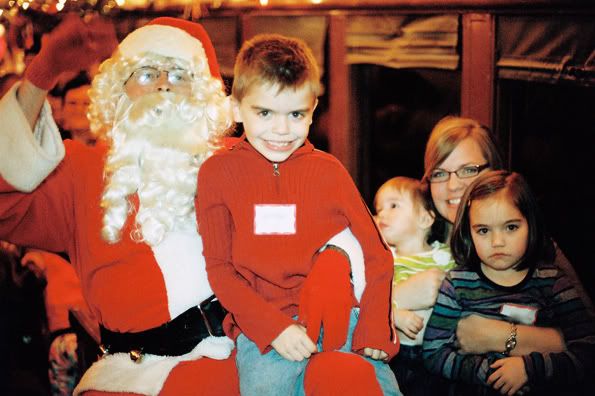 Santa gave each child a wooden top. Which Millz promptly put in her mouth.
We arrived safely back to the station. The kids were on cloud nine. The Christmas spirit had bitten them. We finished up the night with a visit to Dairy Keen, where the train whooshed around above our heads reminding us of the train ride that night.
Want to give your kids the magical experience of the North Pole Express? Here's how.
Families Experience a Magical Holiday Journey Aboard The North Pole Express
Heber Valley Railroad's "North Pole Express" Gives a New Twist to a Family Tradition
HEBER CITY, Utah — Heber Valley Railroad's "North Pole Express" is a magical journey Utah families will treasure this holiday season. As a new twist on an old tradition, the North Pole Express will feature a live reading of "The Night Before Christmas," a classic holiday favorite that will come to life as families enjoy a festive ride to the North Pole.
Guests aboard the North Pole Express will enjoy singing carols, sipping hot chocolate and eating cookies while reading along or listening to the "The Night Before Christmas." Children are encouraged to wear their pajamas for the ride. Upon arrival at the North Pole, Santa and his sleigh will greet the children and give each child a special Christmas gift.
Tickets are now on sale for this popular holiday train, which is a long-standing tradition for thousands of Utah families. First class service is available most weekends during the North Pole Express schedule. Due to the high demand for tickets, the Heber Valley Railroad is offering two matinee excursions on Thursday and Friday, Dec. 23-24, 2010.
The North Pole Express will depart every Monday through Saturday through December 24, 2010.
Nightly Excursions
Depart 5 p.m.; return 6:30 p.m.

Depart 7:30 p.m.; return 9 p.m.
Matinee Excursions (December 23-24 only)
Depart 2 p.m.; return 3:30 p.m.
Schedule and Fares
Family Night: December 1, 2, 6, 13
$29 adult, $26 senior (ages 60 and above), $18 child (ages 3-12)
Coach: December 3, 4, 7-11, 14-18, 20-23
$32 adult, $29 senior (ages 60 and above), $21 child (ages 3-12)
First Class: December 3, 4, 10, 11, 17, 18, 20-23
$47 adult, $44 senior (ages 60 and above), $36 child (ages 3-12)
Matinee: December 23, 24
$29 adult, $26 senior (ages 60 and above), $18 child (ages 3-12)
Tickets can be purchased by calling SmithsTix at 800-888-TIXX, by calling the railroad at 435-654-5601, online at www.HeberValleyRailroad.org, or at the Heber Valley Depot, 450 South 600 West, Heber City. For more information and directions, contact the Heber Valley Railroad at 435-654-5601 or visitwww.HeberValleyRailroad.org.
**Full disclosure: My family was given free tickets to ride the train. This post and the opinions contained herein are my own.**