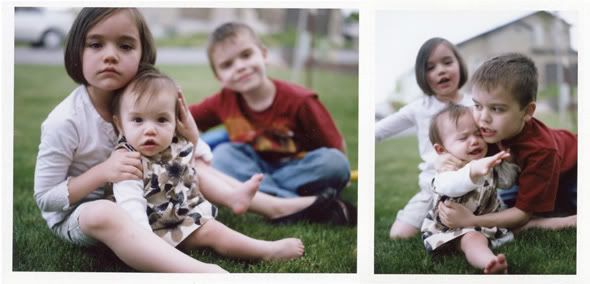 Shot on Polaroid 600se with Fuji FP-100c Instant Film
I heart my life.
Heart it.
Sometimes life is crazy.
Yesiree.
No doubts about it.
THAT I would never sugar coat.
I will tell you that after 7 p.m. every night I turn into a screaming banshee.
I cannot wait for bedtime.
Some days, it doesn't come soon enough.
I long for five minutes to myself.
Out of 24 hours in a day, that is it though.
The rest of the time, is bliss and every answer to my prayer.
These little people rawk my world.
They are so smart, kind, sweet, joyful, lively, caring,
intelligent, insightful, innocent, and
perfect.
They are my reason for living and breathing.
I would give up everything for them.
I would die for them.
Such is the power of love.
They were worth every second of wait.
Every minute of hope.
Every hour of tears.
All of the ache.
All. of. it.
I squished them extra long and hard today.
Tickled a little more.
Looked into their eyes a little longer.
Just because.
Just.
Because.
Life. is. good.