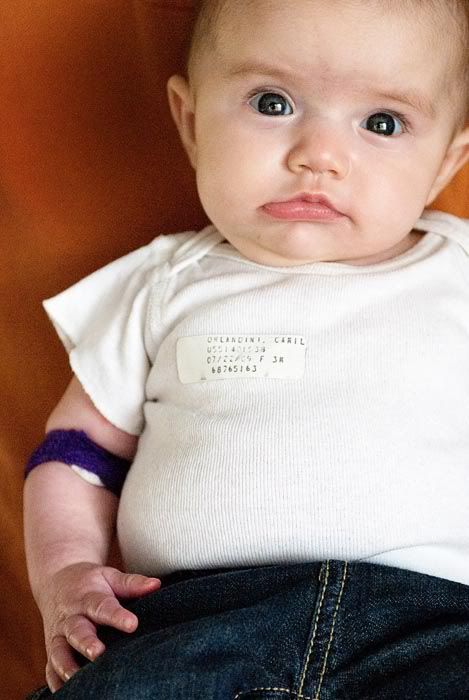 Today, although crazy has been a great day.
I have been going on four hours of sleep.
(Never a good thing in my opinion.)
I will happily run on so little if it means I get to snuggle this cutie pie for hours on end.

Sick. Baby.
No. Fun.
I spent the morning at my doctor's office going over my surgery tomorrow.
Then ran home to pick up baby to take her to her doctor (note both doctors are not far from each other but hecka far from my house...).

Lots of car time.
Had to take Millz to PCMC to have some labs run, because she is so little and has a fever, and a super gaggy cough. They want to know why.
Happily as of this evening when her doctor called, there is nothing too alarming.
No H1N1...no really anything. Strange.
P.S. Dear H1N1: I hate you H1N1.
(I won't get to see my kids for almost three days because of you! You blow.)
(Hospital policy...I am sure you all have the same thing around your area too. No visitors under 14 years!)

Off to have surgery tomorrow.
I will blog from my hospital room afterward to let you all know I survived it and that no one is getting my organs donated to them...tomorrow anyway.
Inside joke.
Huggs and loves to all!
I almost forgot!
If you want to make me SUPER happy, come to a boutique this weekend.
M'ladies will be there selling our necklaces, and debuting our new adoption related baby goodies and running shirts.
Wait, was I suppose to say that?
Well, go and see for yourself. The cat's out of the bag.
Deets:
The Belle Boutique
At Magnolia Grove Reception Center
1117 west South Jordan Parkway (106th south)
Friday and Saturday
10:00-4:00 p.m.
(Totally bummed I won't see you.)