...and what else do you do but paint the pumpkins that have been sitting on your porch since mid-October. The same pumpkins your children have begged and asked and begged some more to carve into "Jack o Lanterns". No exaggerations here, we painted our pumpkins on Thanksgiving Eve. I just couldn't talk myself into scraping out pumpkin goo...especially pumpkins that have been sitting on the porch for a month and a half.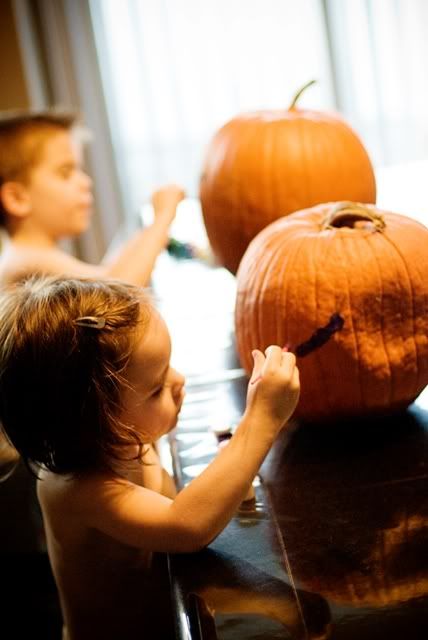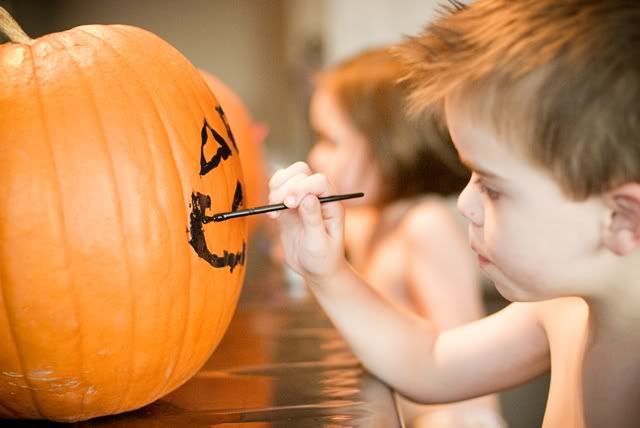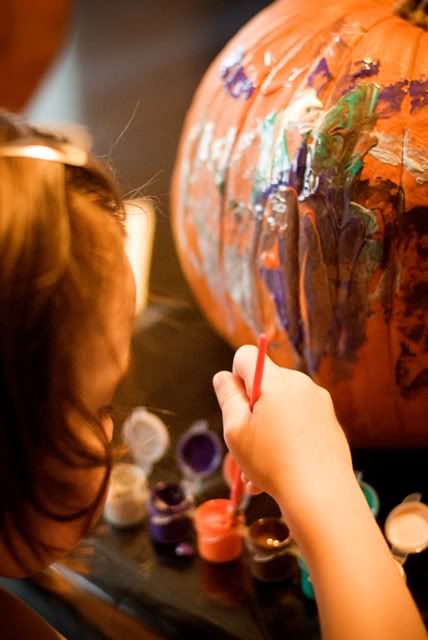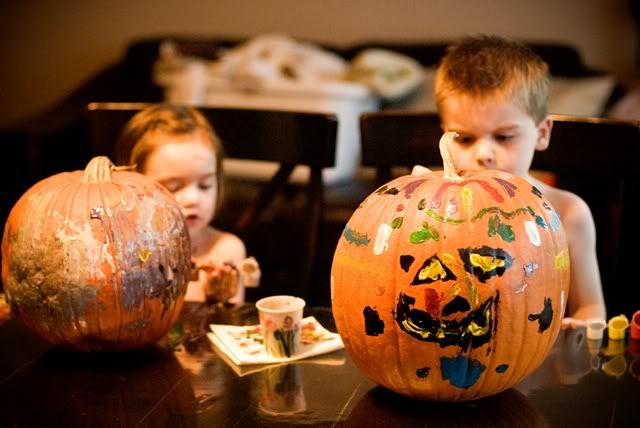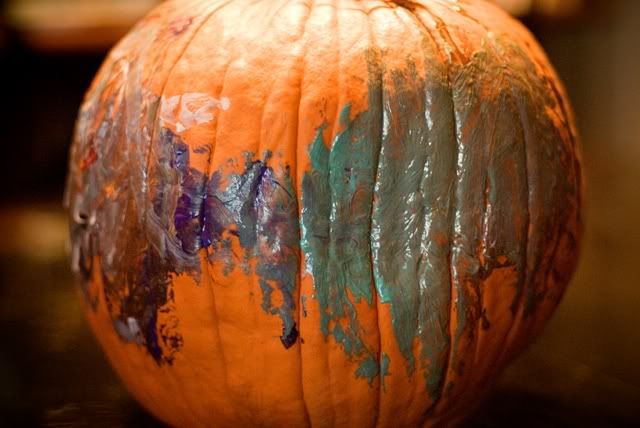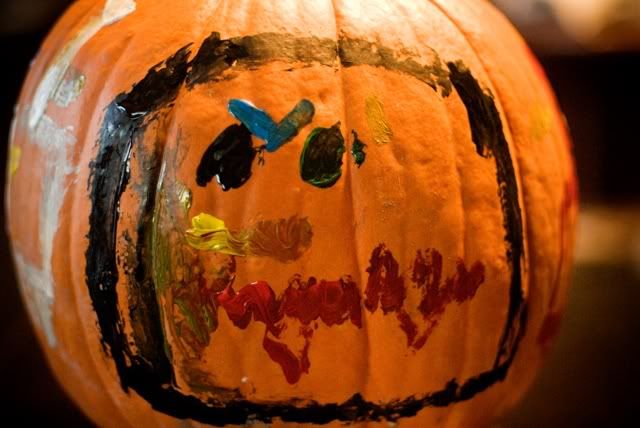 As for Thanksgiving? It was the bomb dot com. I am not sure how fond my step-mom (I hate the term step-mom...but for clarification sake) would be about me talking about her innards on my blog...but I have to say how Thankful I am that she is okay. She had a cancer scare last week and had to have an emergency hysterectomy because they found a tumor...the size of a baseball! Hello! Poor thing. We all went up to see her last Saturday after her surgery, and just hugged her and was so thankful that she was okay and that it was NOT cancerous! Thankful indeed. Lorraine is an amazing woman. I put my arms around her and cried and realized how much I am not ready to lose any of my parents. On the bright side, Lorraine and I are certain she lost AT LEAST a pound. She is amazing.
With the events that transpired...my little brothers and Lorraine needed a Thanksgiving feast, since she couldn't do it...I did it for her! I have never made Thanksgiving dinner.
I woke at 4 a.m. to roast the turkey. In my sleep deprived state, I was unprepared for what awaited me inside the turkey carcass. Have you ever? Seriously? The neck? The "giblets". As if calling them "giblets" makes it all better? I started dry heaving and had to breathe through my mouth just to make it through the rinsing. Then there was the whole, "massaging of the butter into the turkey" and the "removing of the quills". I just sent an e-mail to my aunt, whose home I have invaded every Thanksgiving since my birth...and thanked her abundantly for making me dinner all of my life...how I have taken the last 25+ years for granted. Anyway, I have decided that rolls, and turkey, and gravy, and deviled eggs made by ones own hand taste much worse than those made by auntie and mom. I am forever grateful to the people in my life who cook for me.
Dinner was a hit. Thanks to my brother for hooking us up with the turkey to roast, and to his beautiful
wife
for her pumpkin roll. Have you ever had pumpkin roll? It is TDF. My SIL is the bomb diggs too, she made 9...NINE pumpkin rolls for Thanksgiving. Her family is big...and she said my brother needed 3 for himself. Hopefully if she loves all of us she will post the recipe on her blog.
Anyway, thankful dinner is over...thankful my step-mom does not have cancer, thankful she is recovering well. I am thankful for my family, for the sweetness this year has brought us, and for the continued and renewed appreciation of all that we have been given!