With the big kids in school all day, it has left a lot of alone time for me and Camilla. When I am not working, I take every chance I get to snuggle on her, take her on little dates, and just remember and relish in having only one child, even if it is for a few hours.
I recently had the most amazing morning with Camilla. I was thrilled when the
Natural History Museum of Utah
i
nvited me back
to see the finished product of their very fancy and very new museum. When I was a kid, I went to the old museum ONCE. It was during a field trip. Guess what? I LOVED it and I can remember almost everything about my experience there. I loved science, I loved learning and I still do.
The new Museum? Well, it is just awesome. Hands down. I can't really tell you, but I took time to take lots of photographs so that I can show you:


Please enjoy Camilla only wanting to be carried.




I adored the sketches on the walls in the Naturalist Lab section of the Museum. Here we learned about animals that live in Utah. The kids were fascinated as was I.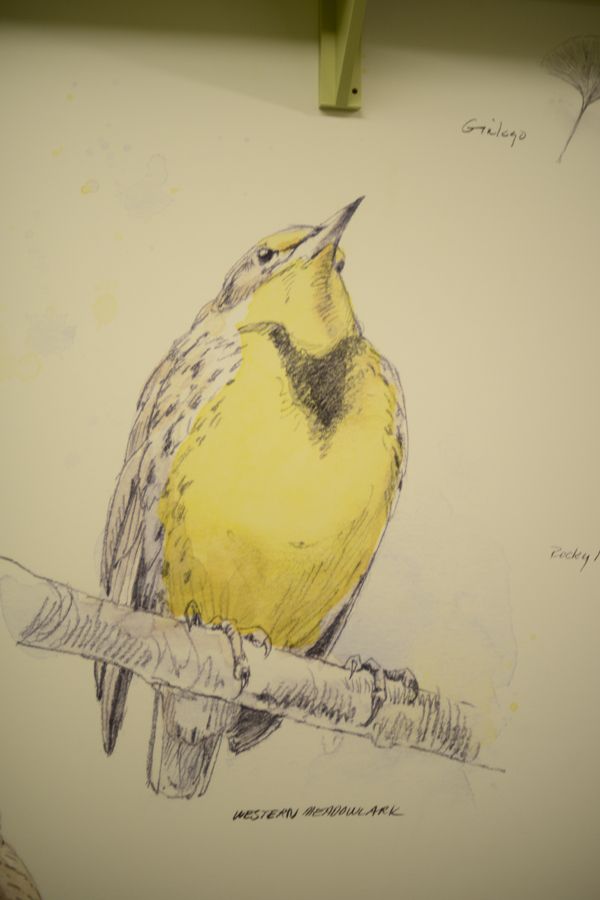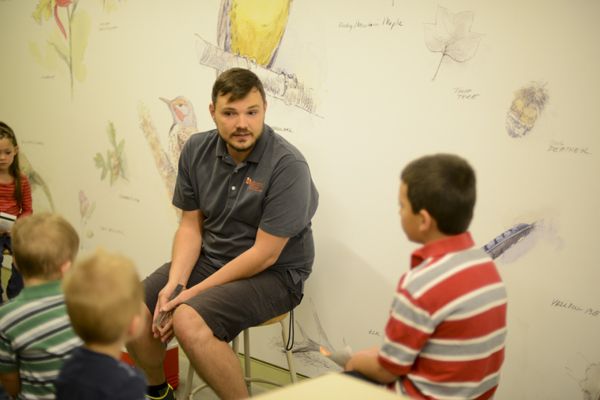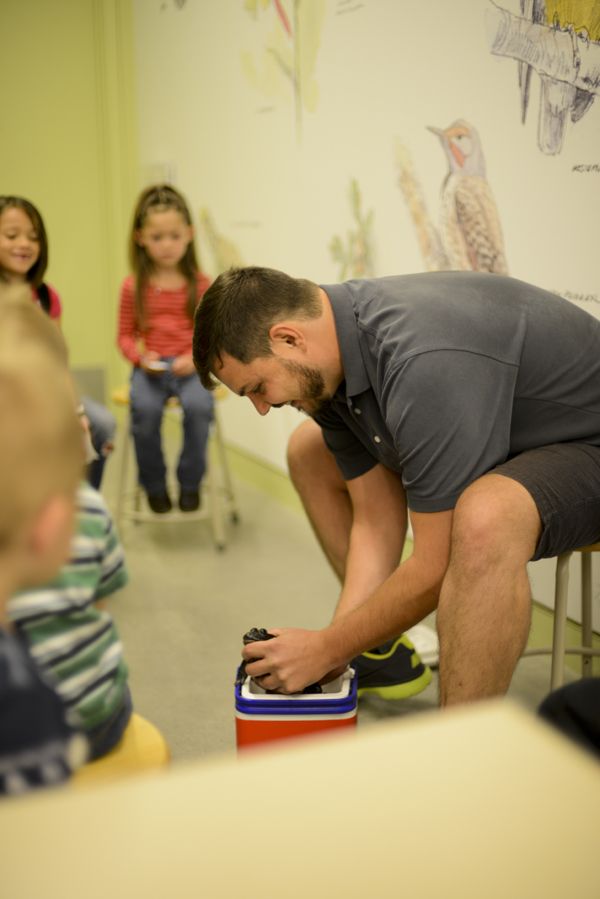 I really wish I had taken notes, however, between wrestling Camilla and my camera, I had no hands left, but I believe this little guy (or not so) is a bullfrog. Isn't he amazing?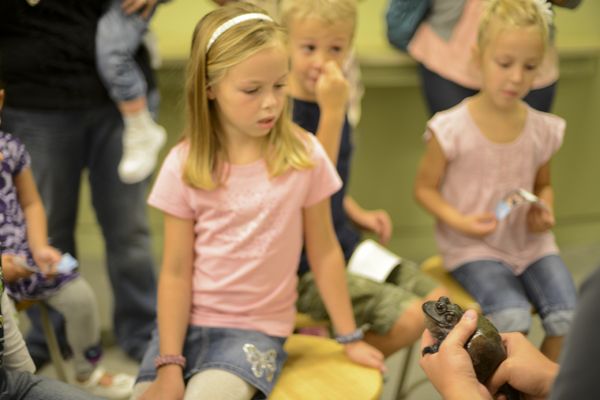 I love the look on some of the kids faces. Some loved just looking, while others wanted to touch. (Even though they weren't able to touch the bullfrog, the Museum guide was very sweet with the kids and taught them a lot about this little guy and his habitat and things he likes to eat, and things that like to eat him.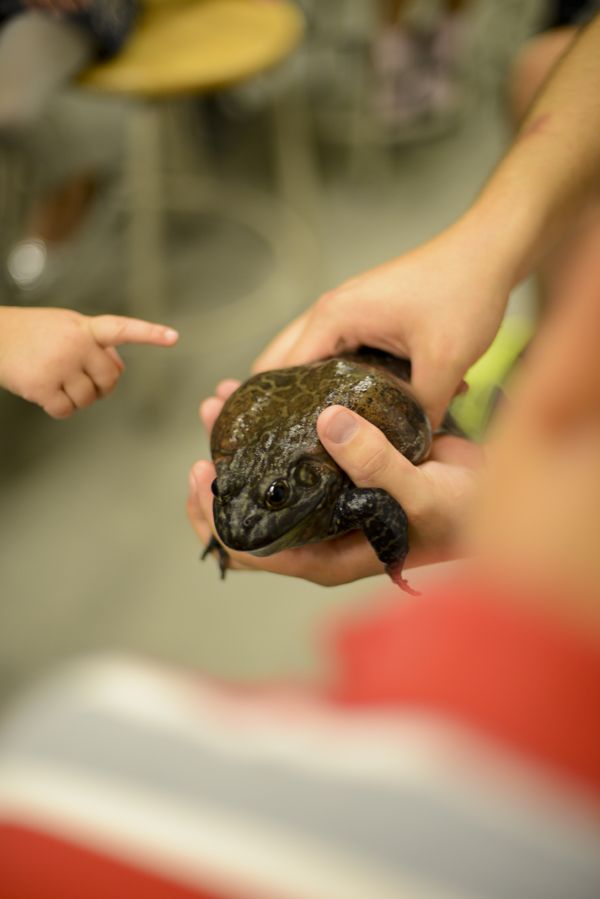 One of the things I love most about the Museum is how hands on everything is. The Museum is completely inviting for children. There are games and exhibits for the kids right next to the ones for adults. What I love about this is that while I am reading about ancient life, my kids can be playing a game about ancient life, and I actually might get to read some of the things I would not be able to otherwise.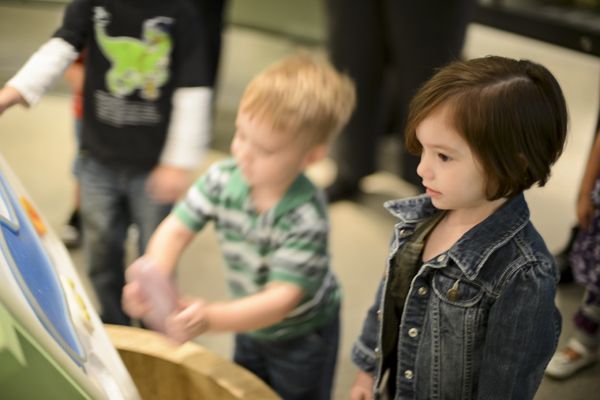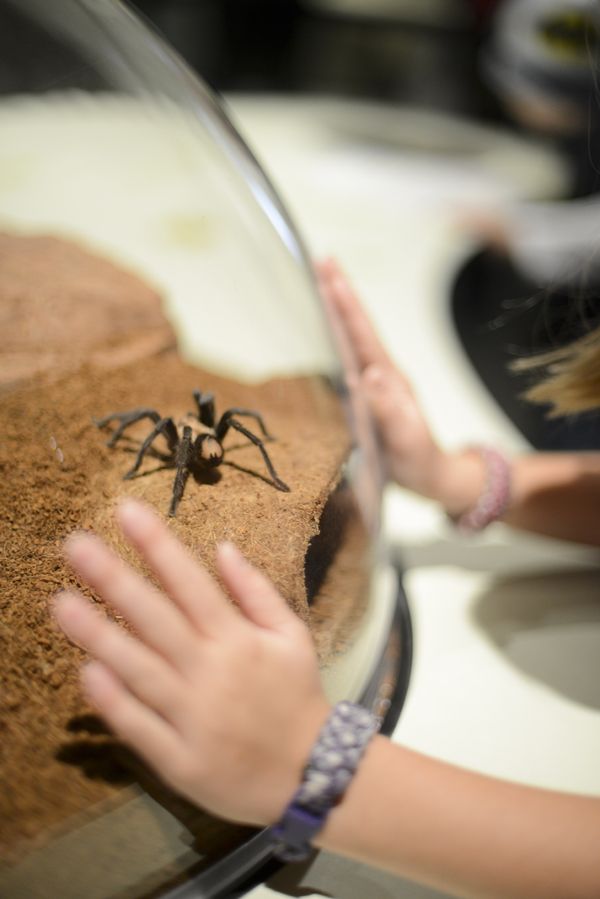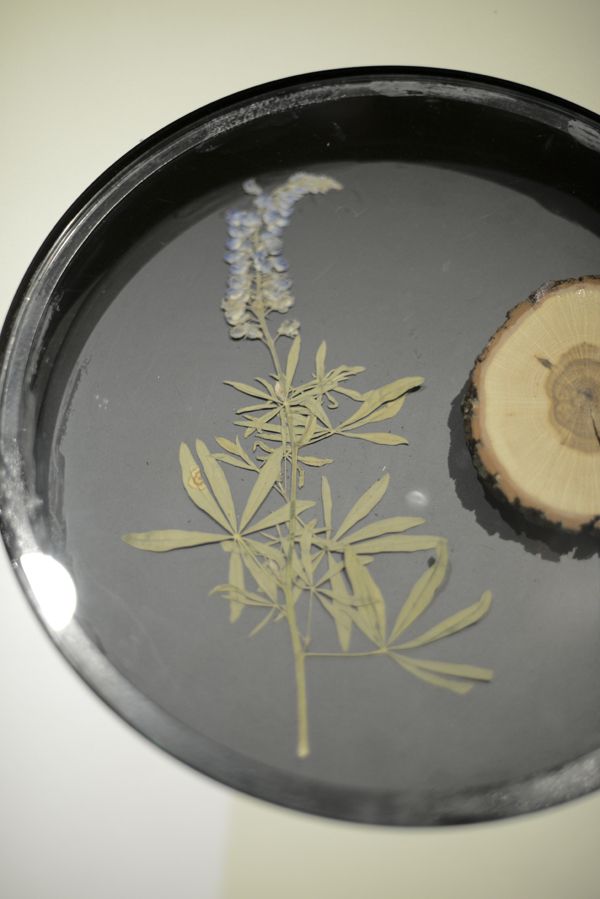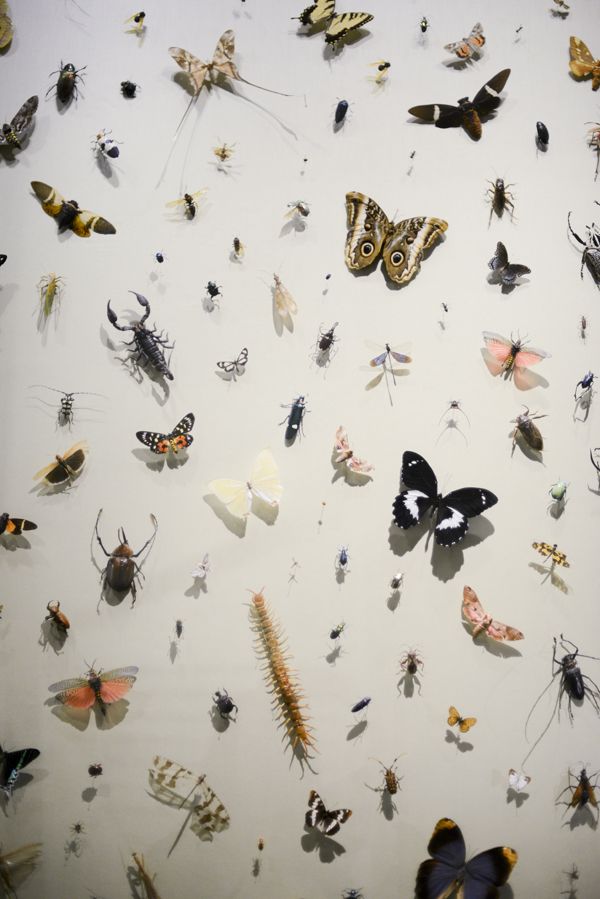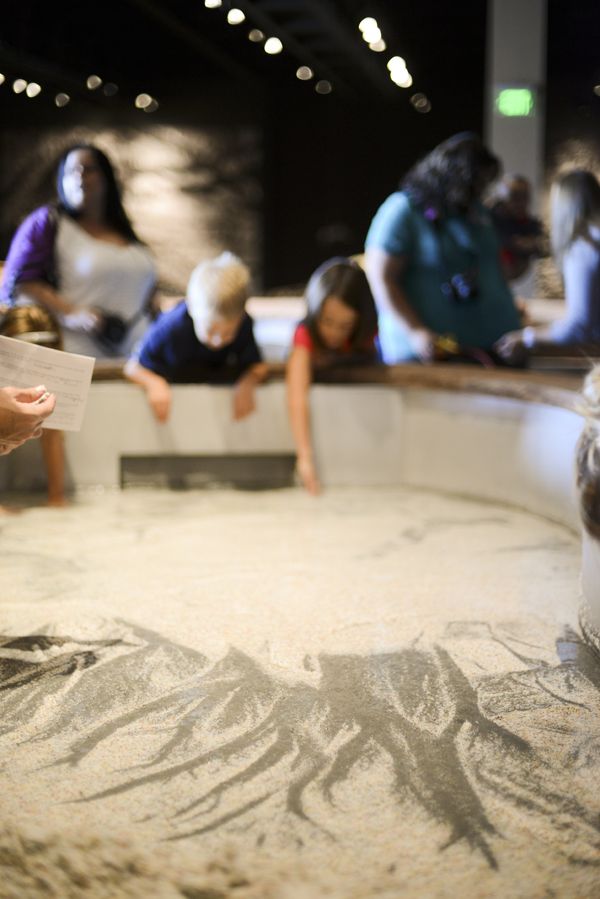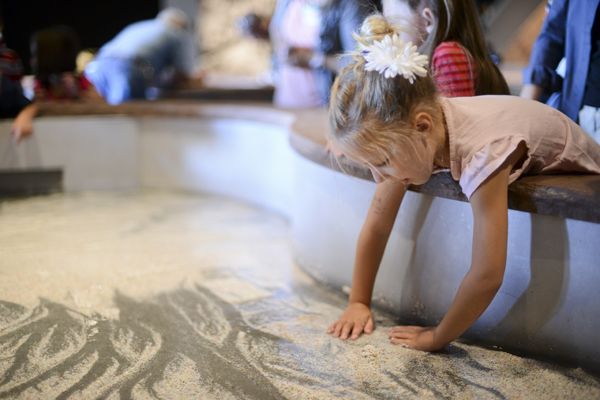 I would guess that "Reading a Site" was Camilla's favorite part of the Natural History Museum of Utah experience. She got to run and jump and play and pretend to dig and discover. It definitely helped her burn off some energy, while I walked around the area and read a bit about what Reading a Site was all about.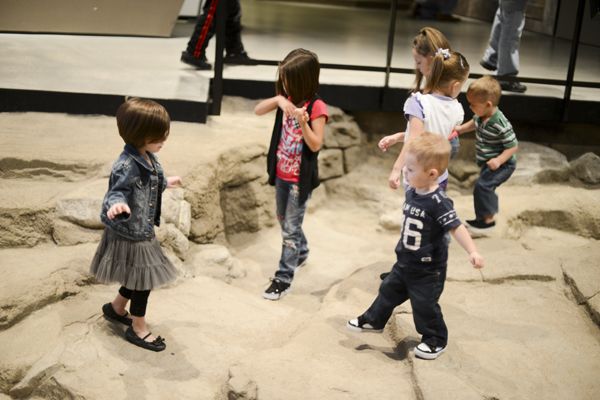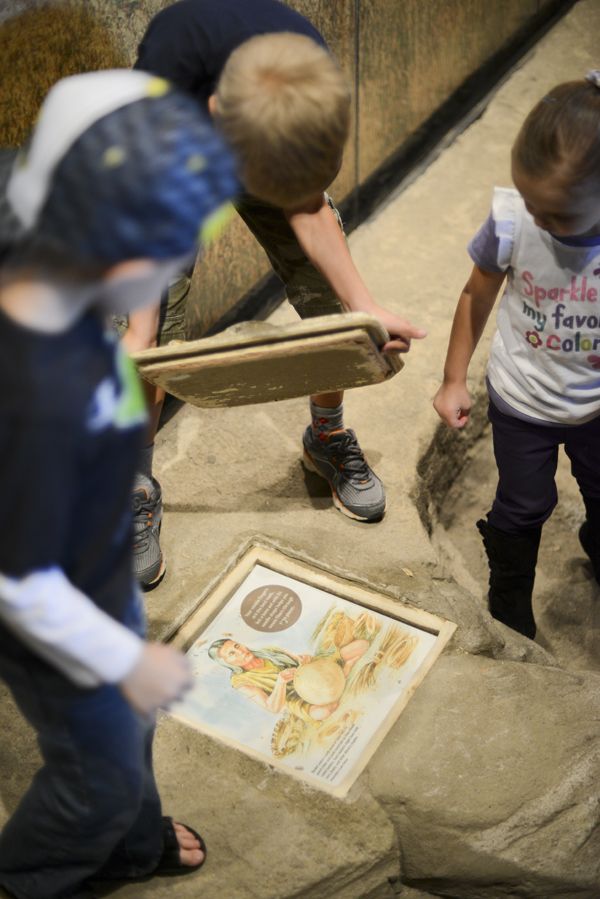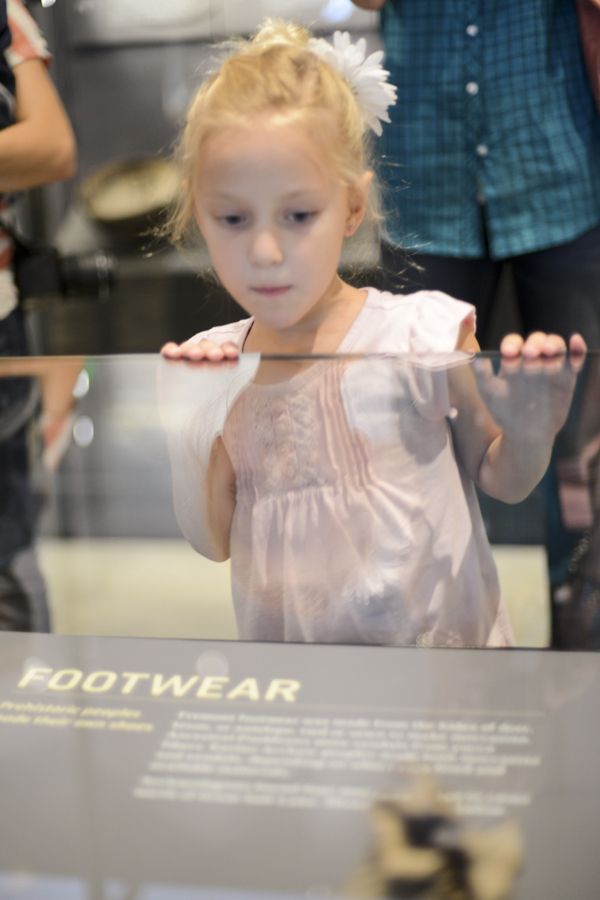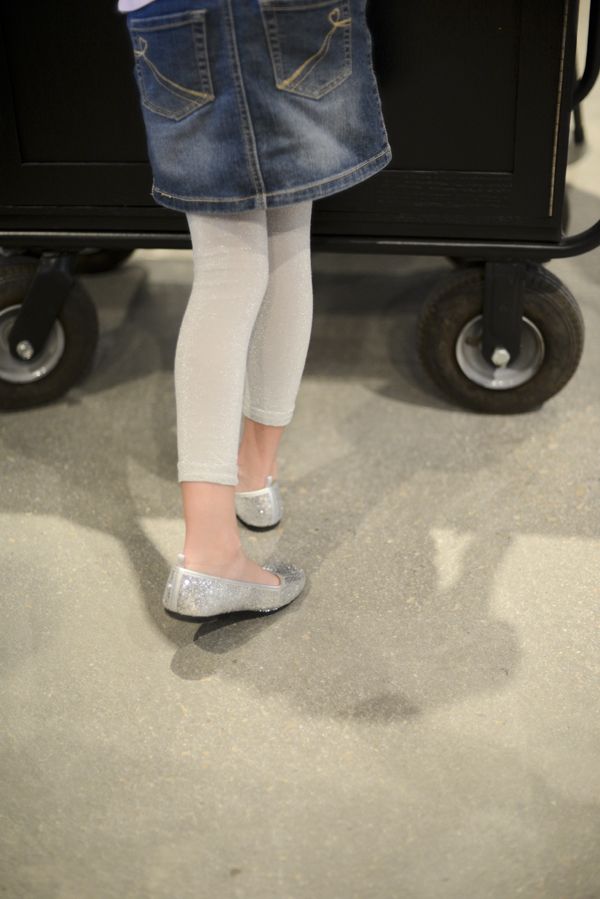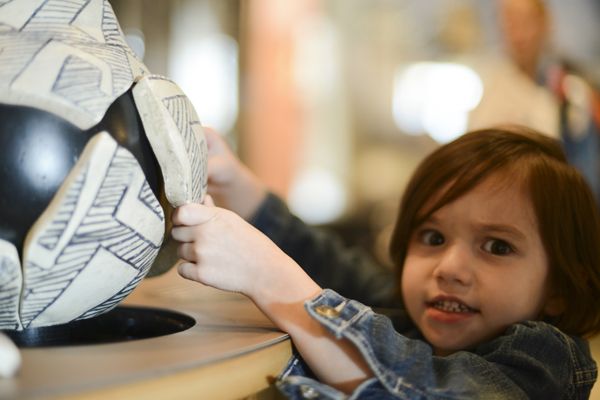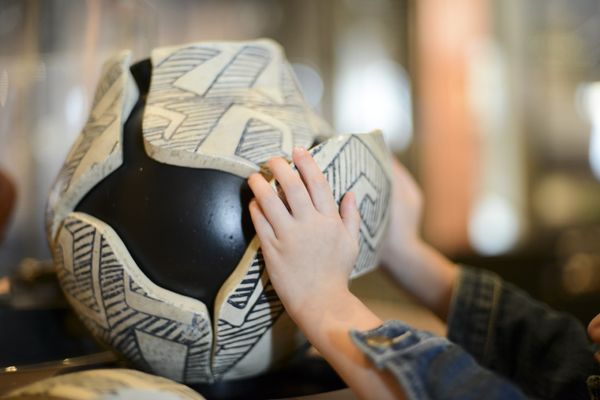 Okay, I lied, The Chickadee Society was most definitely Camilla's favorite.

What is The Chickadee Society you ask?
Kids ages 3-6 can go to the society held every Thursday from 10:30-11:00 a.m. Here, they read science themed stories. There are hands on activities with specimens from the Museum and the kids even get to meet live animals. Kids get to move and play just like the animals they are learning about. There is even a water feature where the kids can catch toy bugs.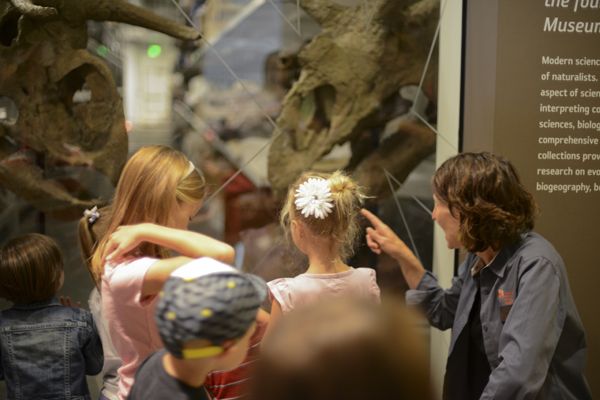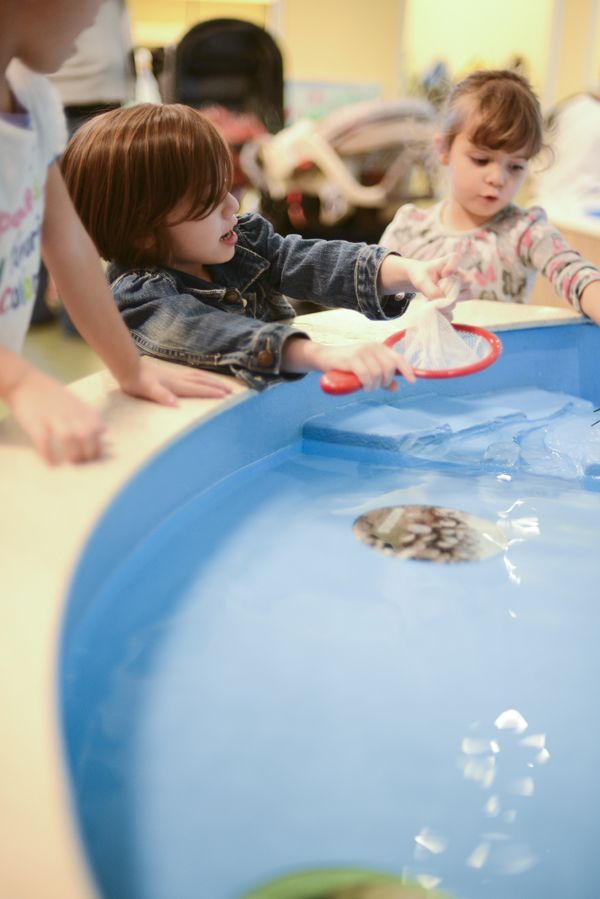 Possibly my favorite part of the Museum was being able to stop and watch scientists and volunteers at work in the Paleo Prep Lab. It is always amazing to me to watch the technicians work with their tiny tools to unearth creatures and nature that lived so long ago. Amazing work.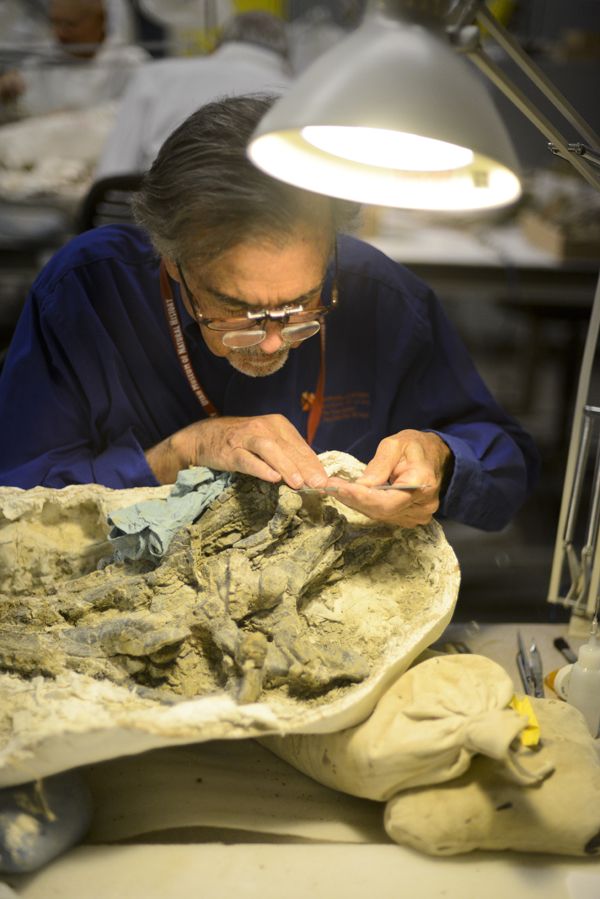 Camilla loved playing with Emily's kids and laying in the giant dinosaur print.




Millie wasn't so sure about the glass floor at first, but it didn't take long for her to figure it out and to run, jump, and fall in love with it.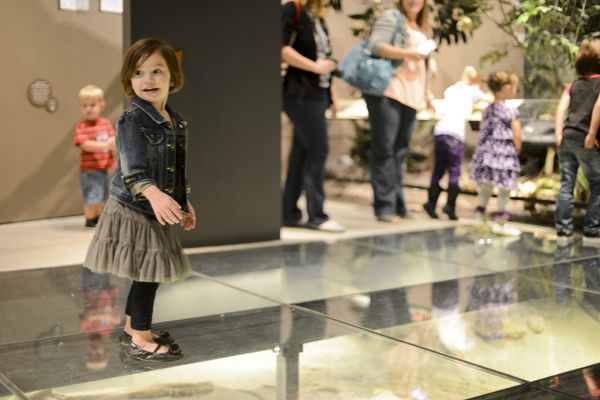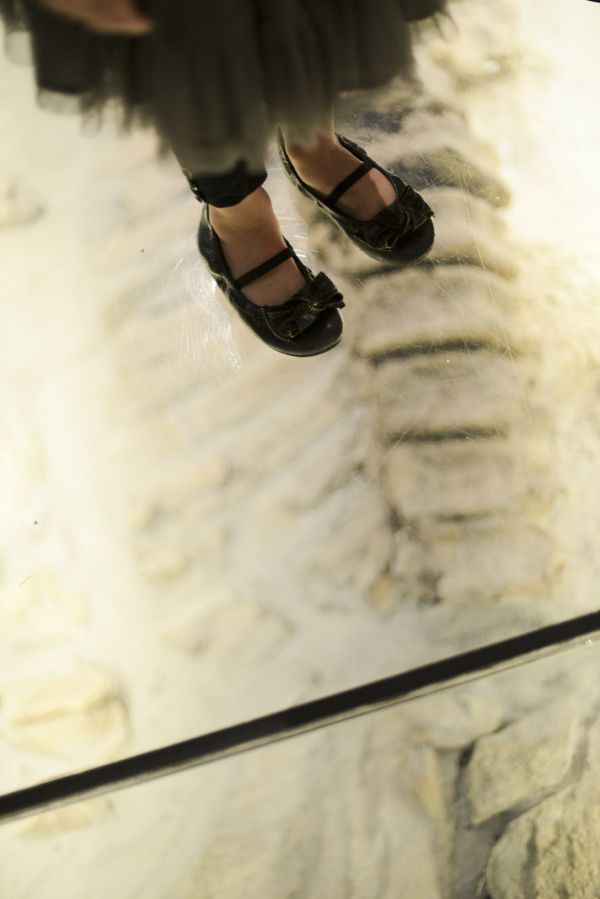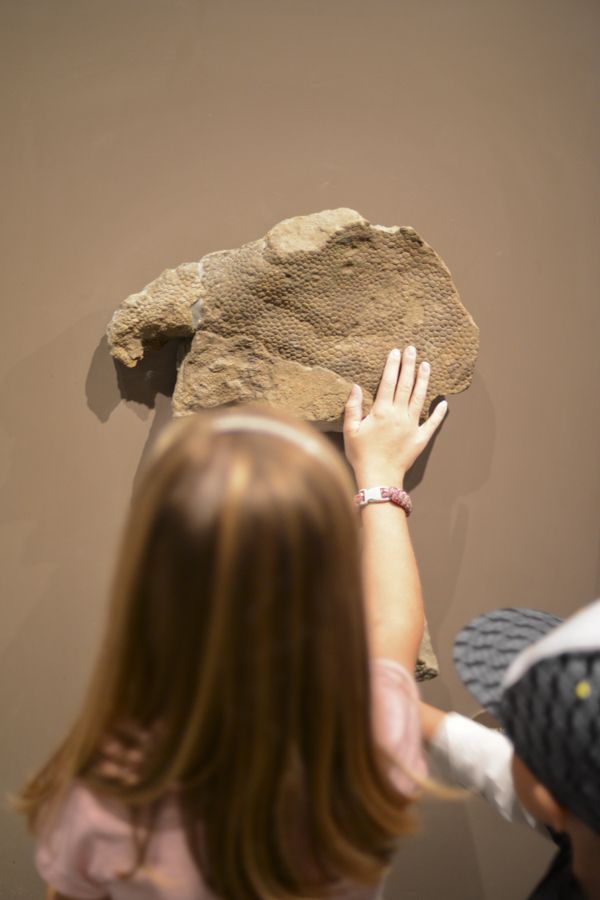 You want to know something really cool about this guy? He is made up of real fossils! When the structure was built to hold him, each of the fossils was made to hang in such a way that they can be taken off easily to study by scientists. How often do you see a dinosaur skeleton that is actually the real deal? I can tell you this was my first time and I was fascinated.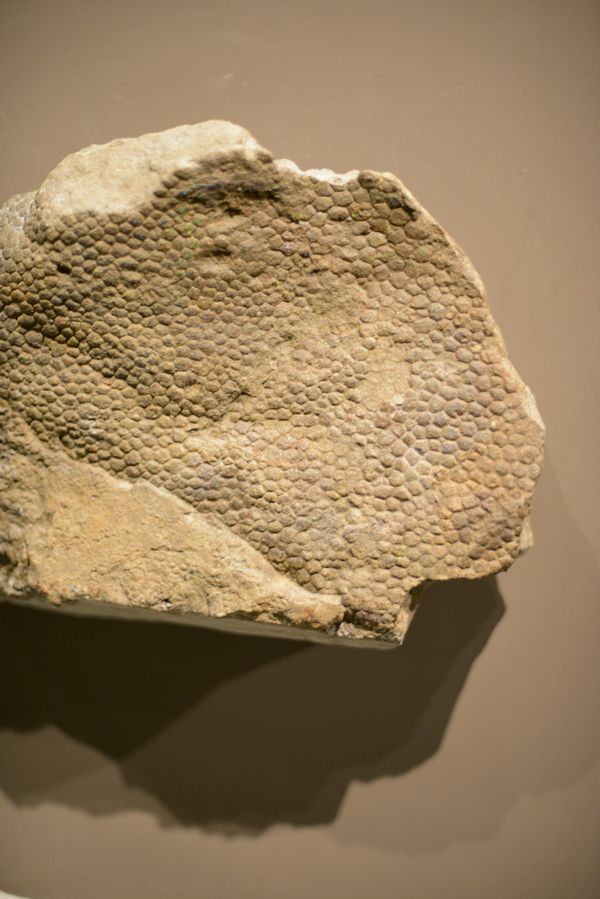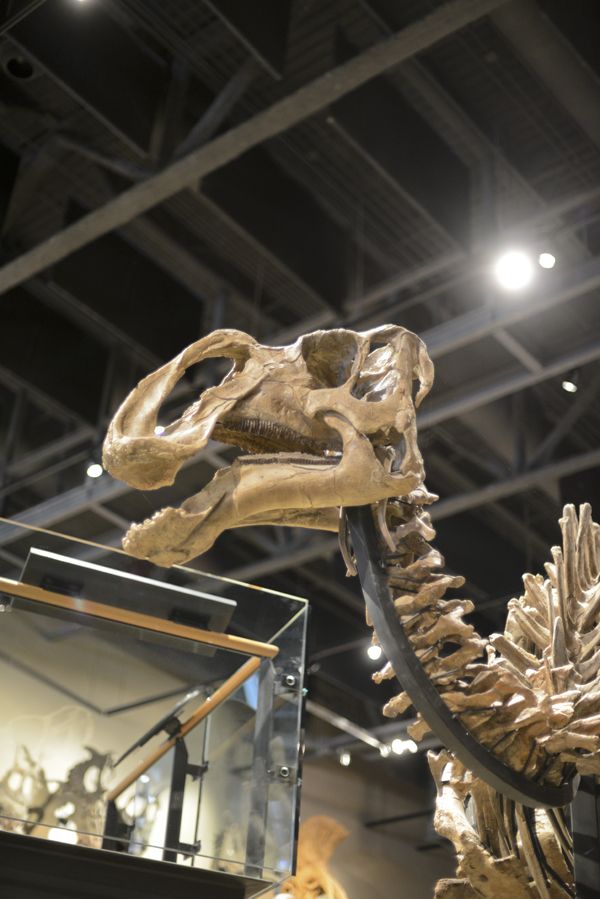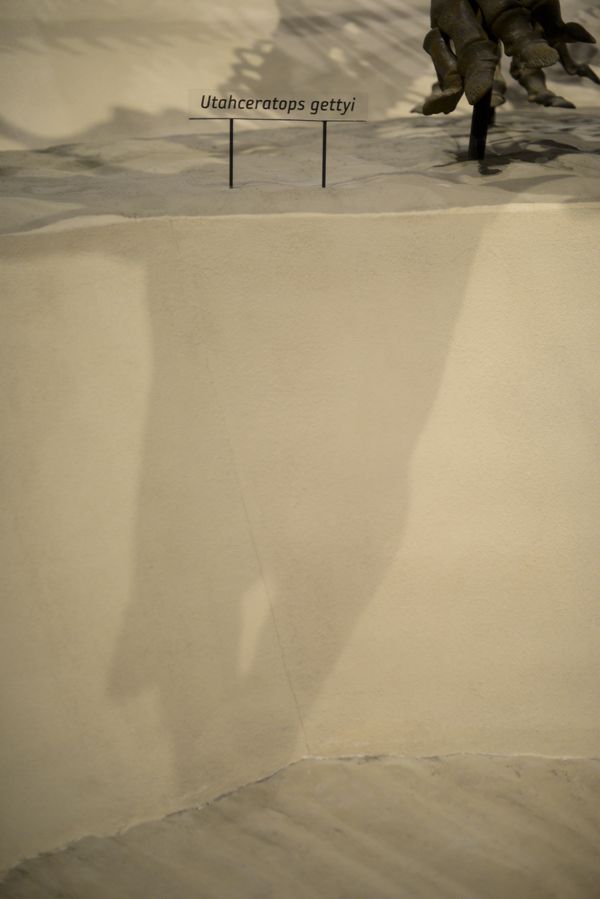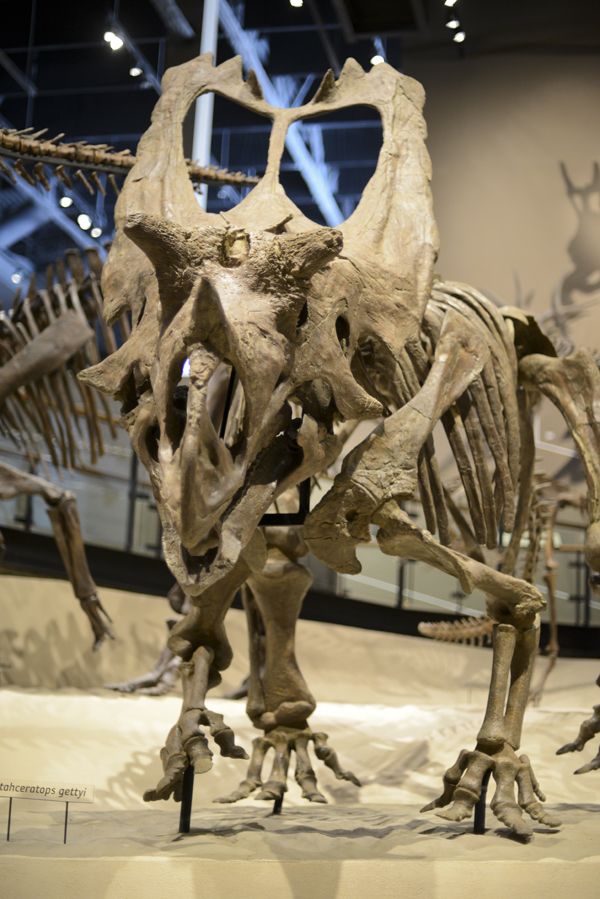 Can you see how much this little monkey loved the Museum?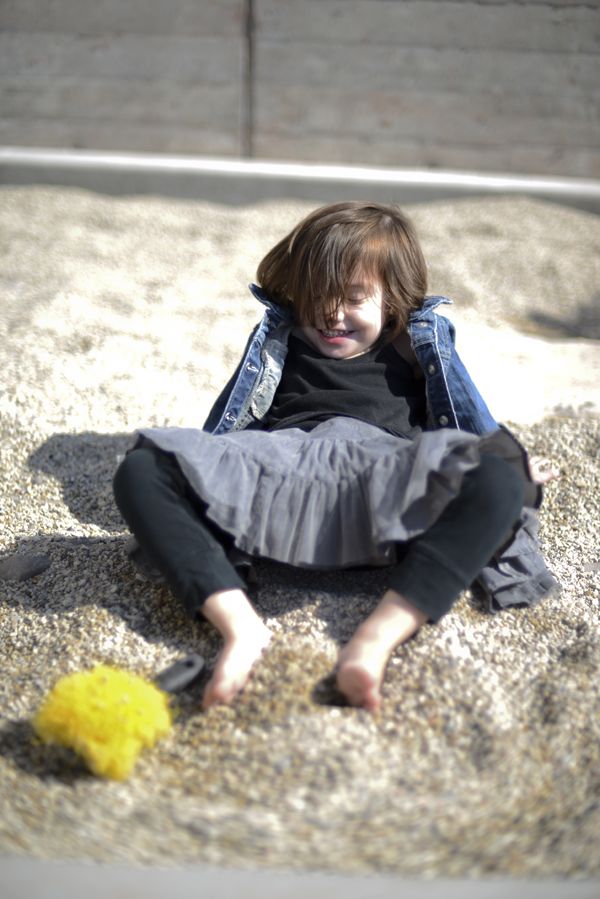 The Natural History Museum of Utah has graciously offered one of my lucky readers a family four pack of tickets to see the Museum too! I am also including a little goodie bag of Natural History Museum swag to the lucky winner. I cannot wait to hear what you think about the beautiful new museum, and what your kids' favorite things were.
To enter:
For additional entries:
Please leave an
additional
comment for each entry as well as your
email address
. The winner will be contacted Thursday, November 1. 2012 via email.
***Disclosure:

The Natural History Museum of Utah

provided Camilla and

me with

tickets to a gu

ided blogger tour

, as well as a delicious lunch from their cafe. All they asked me to do is tell you

, honestly,

about my experience and to give away a family four pack of tickets so that one of my lucky read

ers could experience the fun too

! As always, my opinions are accurate and my own.***