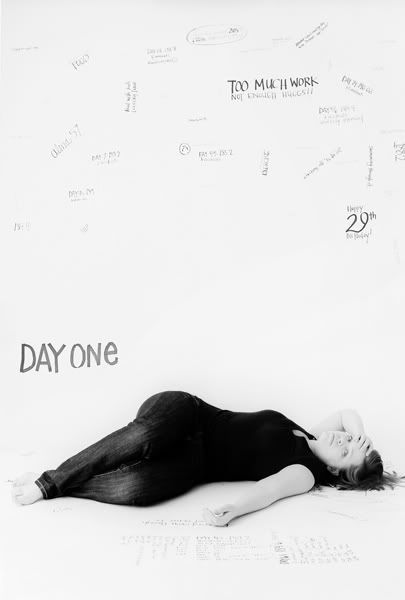 All photos shot on a Nikon F100 with Kodak bw400cn
Film
So, what I have hinted about is a daily photography project which I meant to start sharing back in March, and well, from March until now has been nothing less than pure hell and torture, and my sharing of my project got put on the back burner.

Last week I was finally able to look at the photos from the first few days of my life changing hell. They were titled with things like, "The day my life changed forever!!" and "PAIN" and "Anguished". I never before in my life had felt the feelings and emotions I was experiencing in those first hours and days of shock.

Sometimes in the past month I have felt like, "Wow, I can finally breathe, I can conquer this, I am strong, I can do what I need to do to get through this. I can forgive, I can be the person I know I am inside and this will all be worth it in the long run."

Then, I have tremendously dark days full of things like, "I deserve better than this. I am not strong. I am so very afraid. I am not sure I can be so forgiving. Why am I going through this? Why, out of everything I have already endured must I be enduring this trial? Why? Why? Why?"

The dark days are very selfish days. They are frightening days. They are days that I don't see myself in. I find it hard to know who I am on the dark days. I have referred to my life right now as a bitter roller coaster. One in which I am finding very little joy, and I love roller coasters. (The real kind.)

Being in a position that is so precarious as the one I am in, basically and honestly and truthfully facing a fork in a road of staying on the path of marriage or breaking off into a path of singularity is a frightening place to be. Both paths are rocky and muddy, and messy. Both are wrought with obstacles of pain and uncertainty. Right now I hate both paths. I don't hate many things, but this, this right now I hate.

It is hard to love someone so very completely, and not want to see them hurting, but it is also very hard to be hurting yourself. I have been reading a book that I will share more with you about later, but this book is amazing, and the insight contained therein is so helpful, and yet leaves me feeling like I need to read it every day of my life for the rest of my life in order to keep perspective.

Today is one of those days my perspective feels blurred.

I feel alone.

I feel really, really scared...

...and really, really alone.