When J-dawg was a little tiny man, he got
this baby doll
for Christmas.
(Incidentally she is like half the price now...geez.)
My hope in getting him his own
little
doll (and I am obviously using that term loosely) was to prepare him for the eventuality of a little brother or sister one day, hoping that it would ease the transition.
The problem? The first words out of his mouth the instant he held it were, and I quote:
"Ooooooh! Bebe muito grande!"
(said like gah-ran-jee)
Basically my tiny boy was telling me that this doll was TOO freaking huge for him to handle,
it was seriously SOOOO big!
So, the name stuck.
To this very day, having been played with by J-dawg, and Memms, and one day soon, Millz...this doll is still called,

"Baby Grande".
Meet Baby Grande...
who may or may not have once been a "boy" to ease Hubbs into the idea of his son having a doll...and who somehow has blossomed into a yellow polka dot wearing baby girl.


Who knew?
Note Millz with Baby Grande
just this week
.
Please consider that Millz is now

three months old

: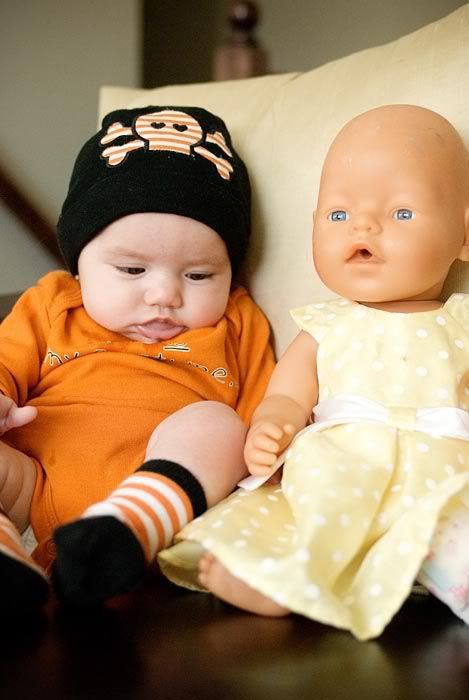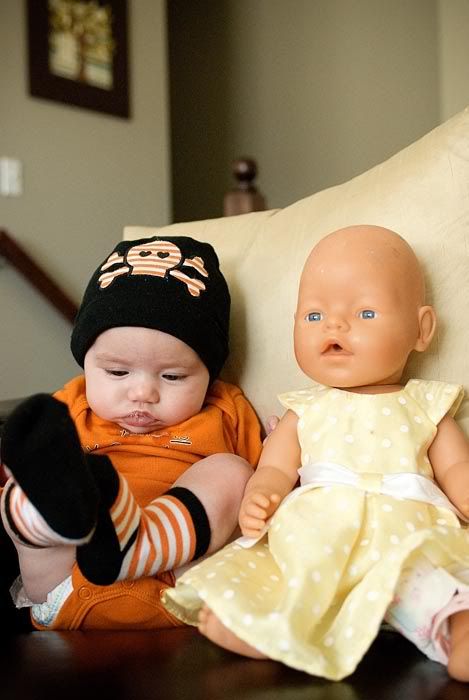 Hilariousness.
Do you see Millie in that last picture?
My other dilemma.
She is in LOVE with her feet.
She just discovered them.
While I dearly love her in every way possible,
as a mother, it is hard for me to accept that she no longer wants to look at my face,
and as a photographer she no longer eagerly looks at my camera either.
Instead she would rather look at her toes.
Another sign that she is getting bigger.
Pause while I shed a tear.
Just don't tell her that I love her toes as much as she does,
if. not. more.