Even though this last month of my life has been a drag with illness and incredible busy-ness, I love my blog for the avenue it gives me to share my story with you. To document my life's adventures and heartaches and struggles and joys with you, and for myself. There is nothing like reading stories of the past and thinking, "Man, I have come so far!"
Telling stories is a huge part of my life. I long to capture moments in life, not only through my camera, but through my words as well.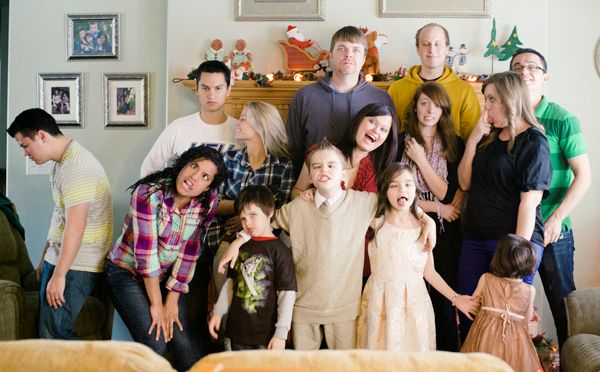 I am sure you can use your imagination to conjure up your own story to go along with this photo. Pretty much this is what my family looks like normally when we get together. Oh how I love each one of them.
This is why I am so excited to attend the
Story@Home
conference hosted by
Cherish Bound
. I was so so SO lucky to not only attend this amazing event last year, but I was able to present as well. I am looking forward to listening to wonderful stories and to gain insight on better ways to tell my own story through blogging and family history, as well as researching the stories of the past and bringing them into my own life and lives of my family. The live presentations by award winning story tellers are my favorite part of the conference, and I assure you they will be yours as well.
The conference runs March 21-23, 2013 in Salt Lake City, Utah. This year
Story@Home
will be held in partnership with the
RootsTech
family history and technology conference at the Salt Palace. This is pretty exciting news for anyone fascinated with family history like I am.
I feel so blessed to be able to offer one of my lucky readers a ticket to attend the conference. Simply enter below for your chance to win. The winner will be contacted next week via email. I hope you win!
***Disclaimer: I have been offered a ticket to attend the Story@Home conference in return for my sharing of this amazing event and offering one of my readers the chance to attend also...who doesn't want to spend the day with me?***